2023 has been great so far. Let's talk about the last six months of FlipTop.
Just like that… we are already halfway through 2023. It has been a very eventful year for FlipTop so far and it certainly looks like there are plenty more in store for us. While we wait for announcements regarding the next event, let's take a look back at the past six months in the league, beginning with an epic 13th-anniversary celebration on the 11th of February!
In Metro Manila, like last year, there was a private party at a club somewhere in Ortigas. Emcees and close acquaintances enjoyed a night of food, drinks, and good hip-hop music. Cebu and Davao saw the return of Grain Assault. Both had a block party-style celebration with local DJs providing the tunes. Fans were able to interact with the emcees and other artists while jamming to the tracks. A month later, it was back to battle mode
The first battle event of the year is Second Sight 11, which took place on March 18 at Tiu Theater in Makati Central Square. We witnessed the debut of four promising rappers, namely Ruffian, Class G, Lax Hartis, and Karisma. Ruffian, Karisma, and Class G quickly caught the attention of the crowd with their strong lyricism and presence. Unfortunately, Lax Hartis choked, but we're sure he'll come back much better soon. Manda Baliw vs Vitrum was a solid style clash while Cnine and SlockOne silenced the 3GS haters with their lyrical war. Three Isabuhay battles took place and each one delivered. G-Clown vs Illtimate was a close match while JDee vs Castillo was arguably the most brutal clash of the night. Zaito vs J-King definitely surprised a lot of people. J-King did a great job but he faced off against a prepared Zaito. The veteran mixed his usual brand of comedy with heavy bars that only he could come up with. Even on video, you could feel the impact of every bar. Second Sight 11 was also Batas' last appearance in FlipTop. After performing his songs from his latest album "Ginoong Rodriguez", Anygma announced that the back-to-back Isabuhay Champion will be migrating to Canada with his family. Once again, thank you to Batas for everything you've contributed not just to battle rap but to Pinoy hip-hop as well.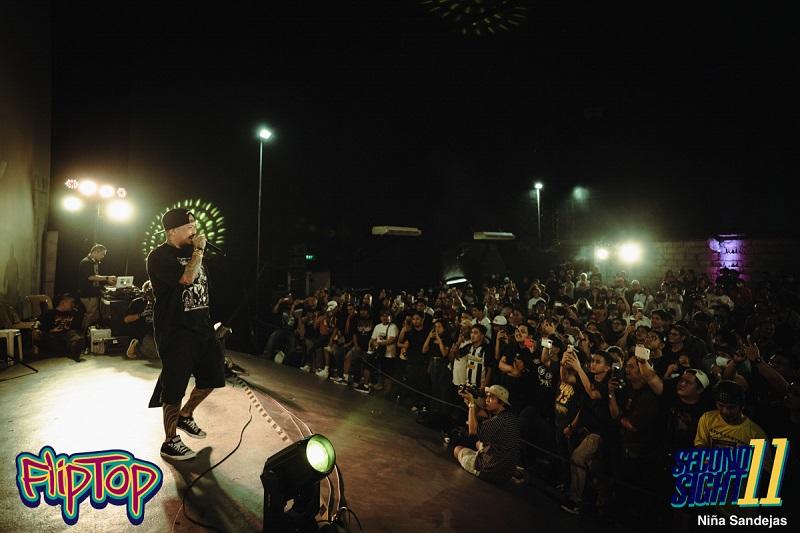 FlipTop returned to Cebu in April for a special two-day affair. On April 14, there was Gubat 11 at the Mandaue Sports Complex. Newcomers Ban and Empithri started the night off. They successfully proved in their verses why they belong in the league. Pen Plums vs GI and Tweng vs LilStrocks are two entertaining style clashes that provided the viewers with plenty of surprising moments. Range vs J-Blaque was very one-sided, with the 2021 Isabuhay Champion dominating all three rounds. The three tournament battles were also solid encounters. Poison13 vs Prince Rhyme and Hazky vs C-Quence gave us lots of witty jokes, impressive technical rhymes, and hard punches. The main event, Sak Maestro vs Asser, is a showcase of complex pen games and confidence. Whether you agree with the decisions of the judges or not, there's no denying this was a banger. April 15 was the return of the beloved Won Minutes. It was held at Raised21 Bar and Cocktail Lounge and featured nine battles. Based on the videos, you can say that the future of Philippine battle rap is in good hands.
The league took a break in May but before the month ended, they announced the seventh Pakusganay event. 2019 was the last time FlipTop went to Davao so fans were ecstatic about the announcement. They became even more excited with the addition of Won Minutes Mindanao. It took place on June 2 at Calle Cinco and had seven battles. Let's support the new faces of FlipTop by checking out the videos once they're uploaded. Pakusganay 7 happened on June 3 at The Dome. No one expected Sixth Threat vs Shernan to be a back-and-forth brawl. Sixth Threat went all out with his superb metaphors and rhyme schemes while Shernan brought back his ruthless battling style. Plazma vs Nikki was a great blend of effective jokes, brutal lines, and crazy wordplay. Despite being first-timers on the FlipTop stage, Sickreto and JP still tore the house down like they were veterans. Zend Luke vs Gameboy is a worthy addition to the list of best style clashes in the league. JR Zero vs Dopee not only had sick bars but also raw aggression all throughout. Frooz and Elbiz vs Mac T and G-Spot was memorable because aside from the amazing lines and chemistry of both teams, it's like a trip back in time as well when the Dos Por Dos concept was still active. Let's hope this will give way to another tournament next year! Pakusganay 7 had two Isabuhay battles: Sayadd vs Invictus and Plaridhel vs Bagsik. Sayadd vs Invictus was another close match! Both emcees showed their trademark intense delivery and intricate rhymes. Plaridhel vs Bagsik was definitely a hard-hitting barfest. Plaridhel's verses and stage presence vastly improved while Bagsik's personals remained effective.
FlipTop came back to Tiu Theater on July 22 for Zoning 16. Since the battles are not yet released, we won't be talking about it here. No spoilers but just expect the unexpected! It's now August and we can't wait to see what's next. What do you wish to happen in the coming months? Feel free to share your thoughts in the comments section.