A longtime battle rap fan who attended Ahon 13 shares their best battles of the historic event.
Ahon 13 has come and gone and what a wild experience it was! We won't be talking about the mishaps on day 2, since Anygma has already issued a statement about it on his Facebook page. Nevertheless, to those who had an unfortunate experience, we hope you're all feeling better now. We're sure it won't happen again.
Now, for the battles, there's no denying that almost every single one delivered. It actually took us three days to choose the matches that really stood out. The emcees stepped their game up and proved why Ahon is a must-see spectacle. So, without further ado, let's talk about the best bouts from days 1 and 2 of Ahon 13. Keep in mind that this is only our opinion. If you disagree, don't hesitate to share your own thoughts in the comments section.
Day 1:
People are expecting a lyrical war from GL and Marshall Bonifacio, and they brought it! It was far from a one-sided showdown. Say what you want about Marshall's previous performances, but he will certainly silence a lot of haters here. His angles are effective, and his metaphors and punchlines are some of the best we've heard from him so far. Obviously, GL also gave a top-tier performance. He once again showcased his complex writing combined with his often unpredictable flow. It's always a treat witnessing his rap skills live. There may be countless debates regarding the result of this match.
The return of Abra and EJ Power wasn't a fluke! They deserved to be in the main event. Abra was ruthless all throughout, maintaining the raw aggression that he displayed during his 2018 Isabuhay run. Content-wise, his multis remain intricate and mind-blowing and his punches are much more hard-hitting now. After five years, EJ Power still has the ability to blend witty jokes and heavy bars. His well-rounded rhyming style mixed with his calm yet effective delivery definitely entertained the crowd. Like GL vs Marshall Bonifacio, the judges' decision may lead to online arguments.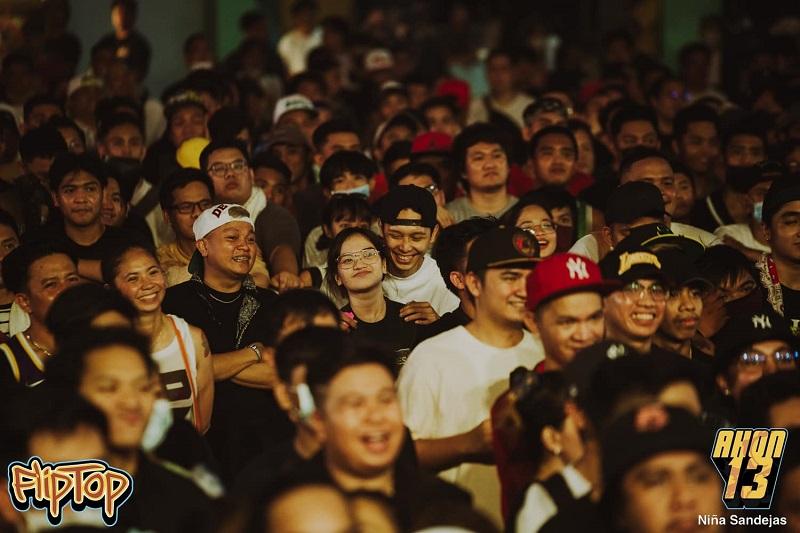 Poison13 vs Zend Luke is an underrated masterpiece. It was predicted to be an epic style clash, and it didn't disappoint. Poison13 is in top form once again, unleashing his crazy rhyme schemes and vicious character assassination battling style. Without a doubt, he bounced back from his semifinal loss at Unibersikulo 11. Zend Luke didn't conform at all. He stayed true to his leftfield rhymes, spitting each deep line with the utmost intensity. The crowd wasn't as loud as the aforementioned battles, but we believe it's worth seeing when it's uploaded.
Day 2:
The hype is real! Sinio vs Apekz was a slobber knocker! We've read in the comments that Sinio was bodybagged, but that was far from the truth. This was actually Sinio's best performance since Ahon 7. His trademark comedy was still there, but he also showed a more serious, vicious side. Another highlight was his rhyme schemes, which are now more complex and unpredictable. As for Apekz's performance, this is truly one of, if not, his greatest showing ever. His multisyllabic rhymes and clever angles remain intact, and his stage presence is so intense you could feel it all over the crowded venue. It's the angriest we've seen from Apekz, and we hope to see it again in his future battles. We won't be surprised if this ends up being one of FlipTop's most viewed videos.
M Zhayt vs CripLi was a close match! While we didn't agree with the decision, we weren't mad about it because it was still an epic encounter from start to finish. M Zhayt delivered some of his hardest punchlines to date with his always-powerful delivery. His rebuttal in round 3 is definitely one for the books. CripLi is one of the most improved emcees of 2022, and it showed here! His mix of bars and jokes is effortless and his confidence is through the roof. We hope to see more of him in 2023.
The most underrated match of day 2 is, in our opinion, Fukuda vs Invictus. As expected, their aggression was unmatched, but that's not all! Both emcees brought their A game with their writtens, flawlessly balancing technical and straightforward bars. This took place after Sinio vs Apekz so it was inevitable that the audience would be less lively. Hopefully, this will get more love when it drops on YouTube. It's a match that fans of brutal lyricism will truly enjoy.
Conclusion:
Yes, there were problems, but Ahon 13 still managed to give us plenty of bangers. Shout outs to Anygma, the rest of the staff, and of course the emcees for their continuous dedication to the craft. We went home completely exhausted, but we will forever cherish every single moment. We can't wait to see what's in store for FlipTop in 2023!