What went down at the very first Ahon event? Let's take a trip down memory lane.
FlipTop's first two events, Grain Assault and Second Sight, enjoyed considerable success. The venues weren't as jam-packed as expected, but the crowd still showed their appreciation for the modern format of battle rap. While some may be contented with that result, Anygma and co. were still determined to take the artform to another level. Everything changed when the videos finally made their way online.
Just a few weeks have passed, and the battles were already getting over 100,000 views. More and more hip-hop heads started to take notice and gave their support. Even those who weren't part of the culture were checking out not only the war of words between the emcees, but also the local scene itself. Suddenly, thousands of new fans were eager to see more.
The 15th of May 2010 was the date where the league held its third event called "Ahon", which is the Filipino word for "ascent". It was more than just a night of rap battles and performances. It was a celebration. A celebration of another renaissance period for Pinoy hip-hop. The venue (Guerilla Radio in Pasig) was already full hours before Ahon officially started. For the crew behind FlipTop, it was undoubtedly a surreal moment.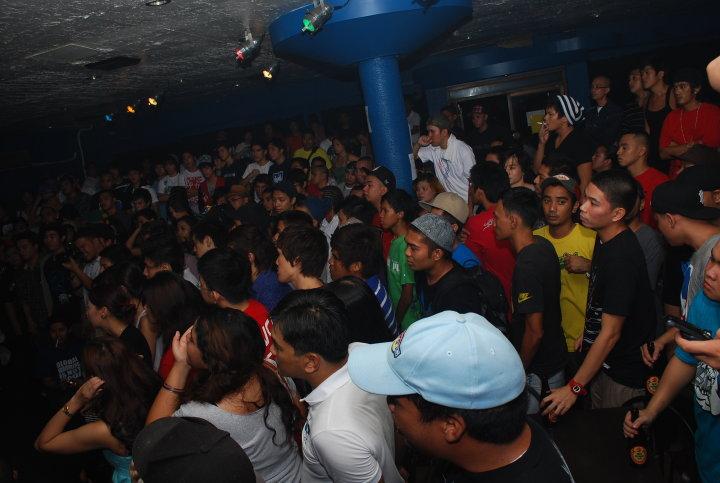 This event gave us an unforgettable showdown between Dello and Target. Both rappers did a good job in their debut matches at Second Sight, but here, they took it up a notch. Target's pen game was stronger than ever while Dello's freestyle skills earned him the moniker "rebuttal king". Loonie, who also made an impact at Second Sight, returned to the battle stage to take on Zaito. Once again, he captivated us with his stage presence and complex rhyming style. Zaito may have lost unanimously, but his humor and off-the-top punchlines were enough to make the crowd go wild. He's a freestyle legend after all.
By this time, Batas is already known as the bad guy of FlipTop. He faced Fuego at the event and didn't hold back his aggressive style at all. Batas dropped arguably the meanest verses of the night while utilizing clever wordplays and other figures of speech. Fuego was equally impressive. He attempted to match his opponent's ruthlessness, and the audience loved it. Whether you agree with judges' decision or not, this is a certified FlipTop classic. Nothingelse vs. Abra could've been as intense as this, but unfortunately, Abra choked. Thankfully, Nothingelse still made it worth watching with his powerful delivery and heavy punches.
How about the memorable performances of Silencer, Apekz, Shehyee, and Daddy Joe D? Ahon 1 served as the starting point of their successful battle rap careers. Silencer and Daddy Joe D are inactive now, but who knows? We might see them back in action sooner rather than later. As for Apekz and Shehyee, they've definitely come a long way and have no plans of settling down.
FlipTop's English conference also made its presence felt at the inaugural Ahon. Skarm and Josh G, both of which are battling in the modern format for the first time, went head to head. Even though Josh G spat a few dope lines, they weren't enough to counter Skarm's impeccable rap ability. Plazma vs. Tim was a different story. Previous English battles often resulted in bodybags, but this one was a close fight. Plazma and Tim went all in with their respective styles, resulting in a classic duel.
Almost every battle in Ahon exceeded one million views weeks after it was released on YouTube. The music of the emcees also reached a wider audience, thus motivating them to put out various projects. The movement just kept on growing, and it didn't stop from there. This all happened without any help from mainstream corporations. All it took was the dedication of the FlipTop staff and the battle rappers.
The league immediately decided to turn Ahon into an annual event, and the succeeding shows were as historic as the first one. Now, fans and emcees often consider it to be one the biggest Philippine Hiphop events of the year. We hope you will be part of the next chapters. FlipTop, make some noise!