Let's take a look back at the very epic FlipTop Festival from the eyes of emcee and battle rap enthusiast Rayneman.
(The following piece was written on February 13, 2020)
CONTEXT:
It's been almost a week since my surreal experience at The FlipTop Festival. Truth be told, "FlipTop Festival" was not a phrase or a concept that I ever imagined would be the brand's magnum opus; what I had in mind was something more like a Summer Madness / Wrestlemania-type event with star-studded battles that would make even Ahon pale in comparison or an Isabuhay All-Star where the biggest heavyweights in the league would duke it out for the title of king. But looking back at the very beginning of FlipTop, I see now that this festival is exactly what these 10 years have been leading up to.
I've been a fan of FlipTop since 2010. What started out as a source of insults for online flame wars quickly became an artform that I loved like nothing else. My long-budding interest in hip-hop was brought out to its fullest thanks to the sheer artistry involved in each battle, and the deep musical roots that these "real emcees" have so proudly bragged about. I went from only partially knowing Eminem, Immortal Technique and Gloc 9 (due to their online presence), to having a Top 20 filled with the likes of Eyedea, Mos Def, and Big L. My perceptions of intelligence and wit were greatly broadened by these battle rap lyricists who expressed their philosophies with unfiltered rawness and vulgarity. This was a time when I watched nearly every video FlipTop put up and knew nearly the entire roster; I was so addicted that I could quote appropriate FlipTop punchlines for nearly every conversation I had. My interest for battle rap would eventually branch out to foreign leagues like Grind Time, King of the Dot, SMACK DVDs / Ultimate Rap League, a bit of Don't Flop, etc. During that period, I also witnessed how the FlipTop community gradually matured, from infantile mindsets like "freestyle dapat, baduy kapag written", to more thought-provoking discussions thanks to online platforms like FlipTop Observer, up to recent times where there's generally a more balanced appreciation for all styles of rap and a lot more reasonable discourse between fans.
The local battle rap scene has grown tremendously both in quantity and quality thanks to FlipTop, and the brand has maintained this success and relevance with barely any industry sponsors and despite mainstream bastardization. But throughout the years, FlipTop president Anygma has maintained one important stance: battle rap is merely an "exhibition"; these emcees are still musicians at their core. And he has consistently pushed this stance for an entire decade: by helping battlers promote their songs, by urging fans to go beyond battle rap and support their idols' music, and by co-founding a record label (Uprising) to give a platform to underground and left-field rappers so they could make the best music albums they possibly can.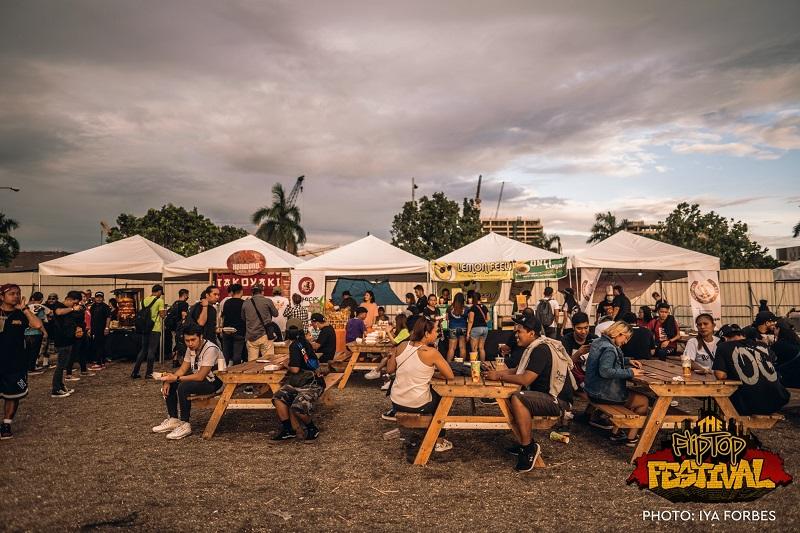 This mindset that emcees are artists first and battlers second actually make FlipTop stand out from the rest of the battle rap world in a way that I think is rarely talked about: FlipTop's emcees are genuinely good at making music. While most of the foreign leagues' top tier battlers are artistically stuck at battle rapping (because they're too bound by the battle rap format and can't translate their skillsets into good rap songs), our top tiers have made albums that are commercial successes and critical hits, and most of our battlers have a decent following to their music (but not nearly as much as their battle rap fanbase). Most of my all-time favorites, like Loonie, Protege, BLKD, Sak Maestro, Zaito, Sayadd, are emcees whose battle styles and songs I equally love, and then there are emcees like Emar Industriya, Apoc, Dhictah, Plazma, Dosage, etc., who I love more as songwriters than as battlers (and this is not to downplay their battle skills, I just think their music is that much better in comparison.)
And this leads us to what I believe was Anygma's grand vision: to have all those years of community building and event organizing culminate into one big event that transcends battle rap and celebrates hip-hop culture in all of its elements: The FlipTop Festival. Despite FlipTop being known mostly for battles (and the word "FlipTop" having become a colloquial term for "battle rap" for the masses, much to Anygma and the battle emcees' constant dismay), there are only *four* rap battles in this gigantic event. Instead, we have 200+ artists, comprised of emcees, DJs, beatboxers, breakdancers, and graffiti artists, performing their respective hip-hop elements. The event was split into two days and three different stages and held at Aseana City Open Grounds, giving it a real festival feel. The decision to hold the event at an open field made it a completely different experience from all the prior FlipTop events I've attended and opened it up to a lot of risks (to be discussed later), and while I still wonder to this day if that was a better decision than just using a large enclosed venue like SMX, it gave the festival an aesthetic feel very fitting of FlipTop's gritty vibe.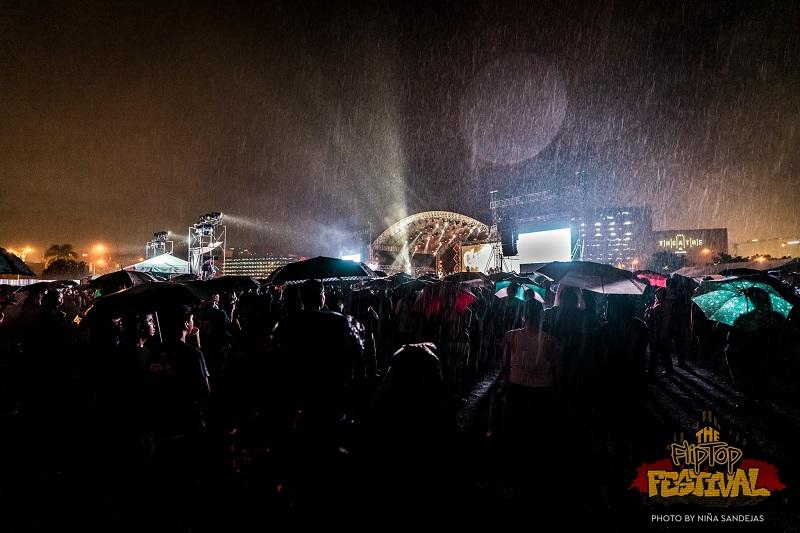 THE FESTIVAL:
It was raining hard in Manila on the noon of Day 1. The rain subsided in the afternoon, but the looming heavy clouds warned us that there was gonna be another outpour in the evening. Amidst bad weather, a coronavirus scare, and the fact that most FlipTop fans only cared about battles and not nearly enough about the hip-hop scene as a whole, I was genuinely concerned that the festival would flop. But as the event went on, more and more people started coming in, and there were much more attendees than I had expected. People wanted to be part of history after all.
And they should, because the festival line-up featured a who's who of the entire local hip-hop spectrum. Aside from our beloved FlipTop emcees, the festival also featured hot underground acts like Kartell'em, Owfuck, GSM, Calix, Ejac and Buddha Beads; emcees and groups from outside Manila like Tres Diablos, Riding in Thundem, Morobeats, Kemi$tri, Mistah Lefty; mainstream acts like Gloc 9, Al James and Shanti Dope; and OGs like Death Threat, Klutch B, Apokalipsis, DCoy, Mike Kosa, Kemikal Ali. We even got the legends who've been reppin' Filipino hip-hop from abroad, such as Bambu, Rocky Rivera and Mastaplann. Besides emcees, we also have the amazing DJs, breakdance crews and graffiti artists who were billed for the event. Day 1 was headlined by Gloc 9, while Day 2 was headlined by Bambu. The event had a very balanced curation, with both days having their equal share of old school and new school sets, and all three stages having very strong line-ups and headliners.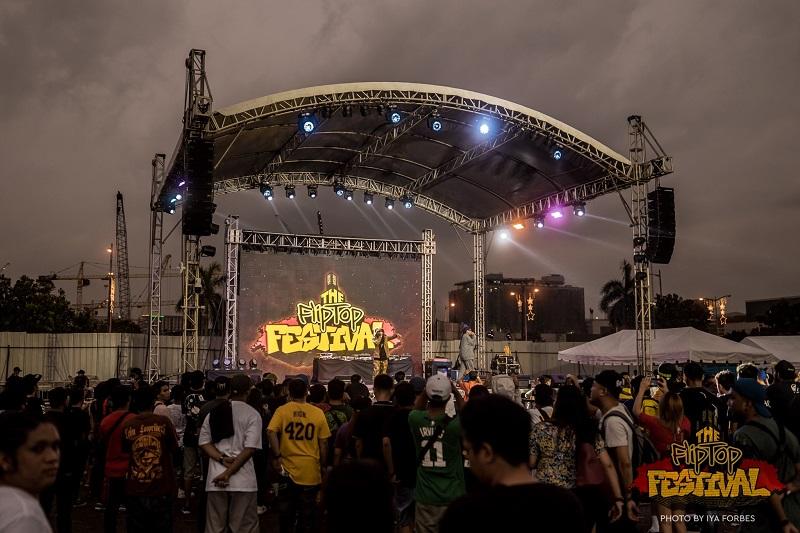 Having seen at least a third of these emcees perform their songs before (whether live or on YouTube), I knew that beasting out on the mic was but a day's work to them, but still, I can't help but feel happy, thinking how they probably made new fans and earned respect from those in the audience who've never heard their music before. The FlipTop emcees who've only ever been looked at as professional dissers, the hungry underground cats who deserve a lot more recognition for their skills, the old school veterans who needed to show us in the new school how it's done, the ones like Dello, Smugglaz and Bassilyo who've been real busy with their careers outside of rap... there's just something magical about seeing them in their true element. Big props to the DJs too, most of these sets just wouldn't be complete if we didn't have the likes of Supreme Fist, DJ Arbie Won, DJ Roza, Sloj, KMG, Six the Northstar and more adding flair to each track with their turntablist expertise; and of course, to the producers who provided a musical backbone for these emcees to have amazing songs.
The three stages ran their programs simultaneously for most of the event, and it was really amusing to watch people run back and forth between stages because their favorite acts were in different ones or playing at the same time; it was almost sadistic of Anygma to make people have to choose between Illustrado, GSM and Kolateral. Unfortunately, some sets were buried and had little audience (especially on the 3rd Stage) because more popular acts in different stages were attracting all the viewers, but it was also heartwarming to see their true fans stick around and watch, and to see these emcees still give masterful performances through tough or empty crowds and even technical problems (any one of them would tell you that this is a requirement for being a true emcee).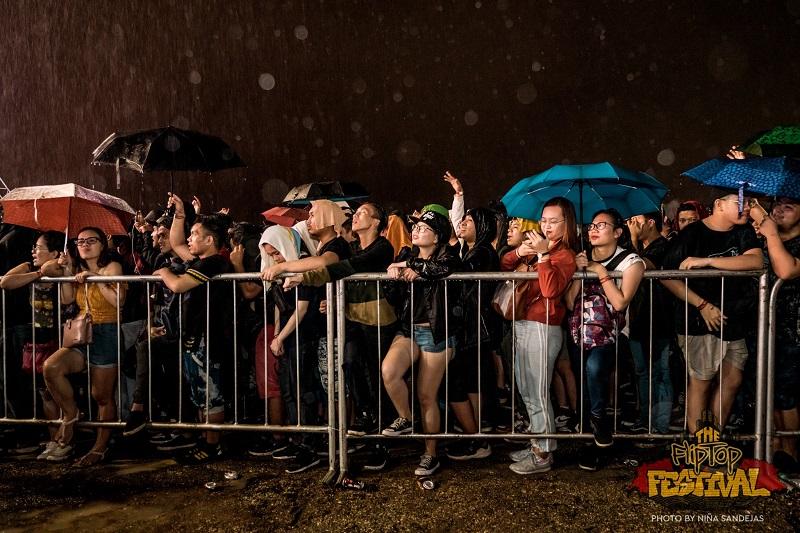 The length of this essay should make it obvious that I had a really good time in the festival. Nostalgic and fanboyish emotions surfaced while watching familiar faces, and I felt a bit of pride in finally seeing live some artists that I've long missed out on. There were even unexpected moments that became etched in my memory, like Zaito's amazing freestyle closer, singing along to J-Hon's Kalawakan verse and being surprised that I have it memorized word per word; seeing Mike Swift single-handedly perform four hip-hop elements (breakdance, turntablism, emceeing, and graffiti) in one high-adrenaline set; the consecutive speed rap sets of Numerhus and Damsa on the 3rd Stage.
Of course, there were also some downsides to the festival. Since it was held in an open field, we all got soaked from the rain, greatly decreasing my enjoyment of the event and making the terrain hard to walk through. Weather setbacks like these are a classic FlipTop event narrative; it always works in their favor because afterwards, they get to say "nandito pa rin kami, tuloy-tuloy lang kahit umulan o umaraw." I just wish there wasn't so much confusion with the security measures regarding umbrellas. They initially didn't allow umbrellas inside the venue, which was absurd since it was already pouring really hard as early as noon. I foolishly left my umbrella at the place I was staying, not wanting it to be confiscated, only to find out that they would eventually let umbrellas inside after all, and "'yung mga matutulis lang na payong ang bawal." Only large umbrellas have those pointy tips. Why would you frisk inside people's bags to look for umbrellas like that? I found this lapse in judgement extremely frustrating, even though it's also my fault that I left my umbrella behind and didn't bring a hoodie. Regardless, I still mostly enjoyed coming to Day 1, and I'm glad that many people were proud to have stuck around despite the bad weather.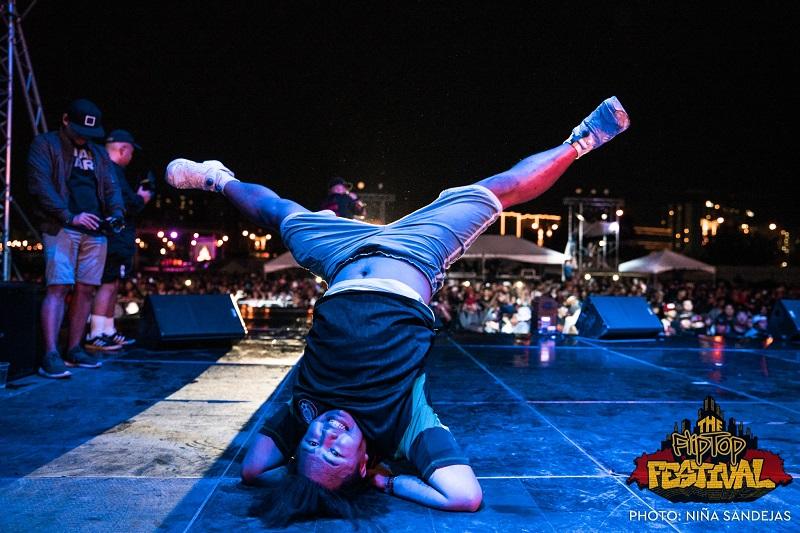 For both days, my friends and I noticed that the Main Stage speakers were so loud, they were drowning out the sounds from the 2nd Stage, and I think that was quite distracting for those within the 2nd Stage area and very unfair to the performers there. It would have been better if the sound levels were kept equal while the 2nd & 3rd Stage Programs were still ongoing, then amped it up once only the Main Stage was left.
Lastly, the event was very lacking in electrical power, mostly on Day 1. Some food stalls had difficulty conducting business because they didn't have any power for their cooking equipment, and I can imagine that it must have dealt a bad blow to their sales prospects. Some lighting for the venue would have also been helpful for attendees, and to help illuminate the amazing artworks made by the graffiti artists.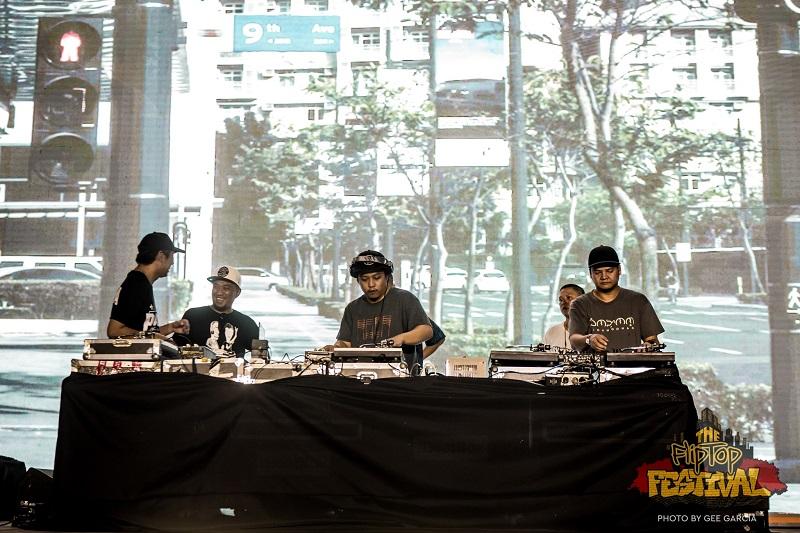 Ultimately, flaws like these are unavoidable in such a massive event (which must have been a logistical nightmare to organize), held by a total grassroots organization that's never done anything of this scale before. I never expected FlipTop Festival to be a perfect event, in fact, it's every bit as good as I imagined it could possibly be, but I think it's only fair that I criticize certain things so they can be points of improvement if there's ever another FlipTop Festival, and none of these will stop anyone from giving the historic event its due props.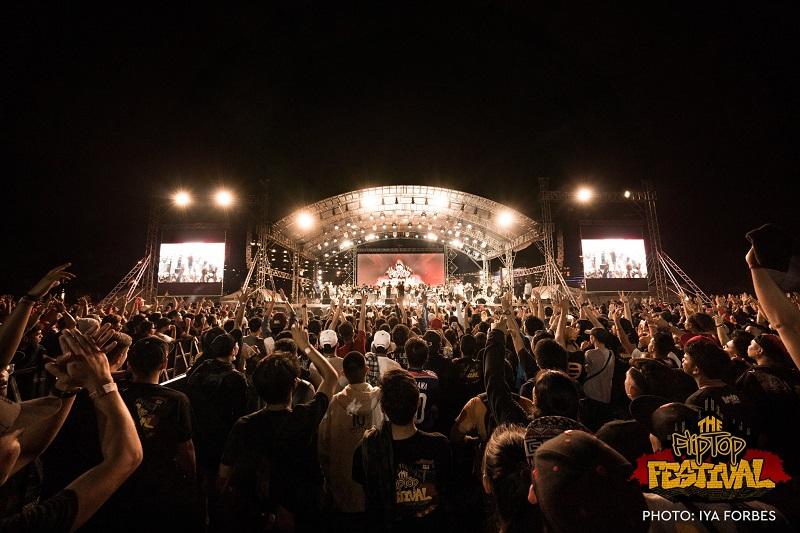 THE FINALE:
My friends and I weren't able to finish Day 1 because we decided to conserve our energies for Day 2, and I'm kind of glad we did because the last couple of sets from Day 2 transformed my experience from good to unforgettable. After a great set from Ron Henley, Anygma gave a few words and presented a set of videos paying tribute to the late greats DJ D'Tech (who was regarded as a very important member of the FlipTop family), LilJohn (a FlipTop heavyweight who was shot by riding-in-tandem motorcyclists last year), and Francis M; and the ever-living legend Andrew E, who Anygma really wished he could have enlisted to the festival. After the tributes, up next was the legendary Mastaplann, flying all the way from the States to grace us with some classic funky soulful rap, and even bringing in a breakdance crew to bust some moves as they performed. The Mastaplann set was as hip-hop as a set could possibly get.
After Mastaplann, we got consecutive sets from Chinese Mafia legend Klutch-B and BB Clan legend Kemikal Ali. Klutch-B (AKA Banong Bagsik) was as impeccable a rapper as always, performing classic tracks and then inviting Ali to perform "Panalo Bigayan", a track they collaborated on from Ali's amazing 2018 album, Bukas Uulan ng Mga Bara (which I also wrote a lengthy review on). After that, Ali's set was a mix of classic songs from his BB Clan days (inviting crewmate Simon to perform alongside him) and recent ones from his B.U.N.M.B. album (one of which was "Mister Lamon", an exhilarating track where he and BLKD mock traditional politicians). Though I didn't grow up to these OGs' music, unlike older and realer hip-hop fans, there's a commanding and masterful element to their emceeing that sets them apart from newer emcees, and that's something I always find endearing and inspirational to watch.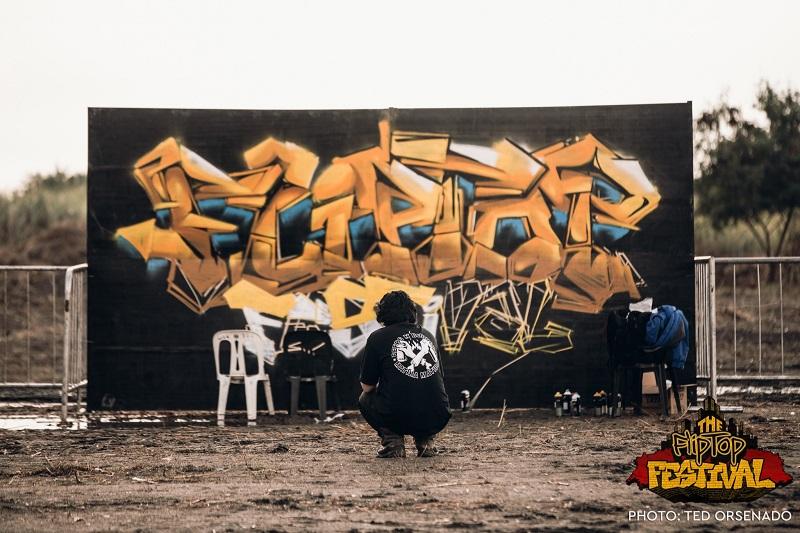 Finally, we were at the billed main event of Day 2: Bambu. I've missed chances to watch him live some years ago, but I've heard a couple of his songs and know exactly how good he is and what he represents, but man, he is a completely different beast live. His performance was an absolute emceeing masterclass: he didn't miss a single beat or breath on all of his songs, and he rapped with a powerful conviction that made the audience pay full attention. He openly acknowledged that a lot of people on the crowd probably didn't know who he was and that it was his responsibility to win them over, and I think he rocked the crowd really well, getting through to them with his spiels and getting them to chant along to his tracks.
Throughout the festival, there was a strong anti-establishment vibe going around, from the rebellious mentalities expressed by many emcees, to the pro-marijuana legalization sentiments that I tend to hear a lot, to socially conscious tracks (some even surprisingly coming from emcees like G-Clown and Smugglaz whom I've never really known for being political), to outright call to arms by known activist groups like 1Kiao and Kolateral. Thematically, this made Bambu the perfect main event for Day 2, as he told vivid, harrowing stories of the injustices that minorities and the lower class go through in the United States; stories that are extreme, yet should be relatable because of the similar horrors that our minorities and poor people experience. The most emotional moment of his set was when he performed in acapella a song called "Routine", where he fears for his son's future and cautions him about the dangers of police brutality and discrimination against people of color. English raps tend not to resonate that well with many in the FlipTop community, as they're more used to hearing Tagalog raps, but I think the story of "Routine" rung loud and clear that night.
Bambu ended his set by taking a picture with us in the crowd with all of our fists raised high. "Power to the people". I can only hope that many from the crowd actually do believe and live by those words, but it was still an amazing night of solidarity, a moment where Bambu turned the festival into something bigger than hip-hop. This incredible performance was already a perfect closer to the FlipTop Festival (I consider the two battles in the end to be extra service at this point), and the only way this day could have been more perfect... is if we had a performance from Loonie.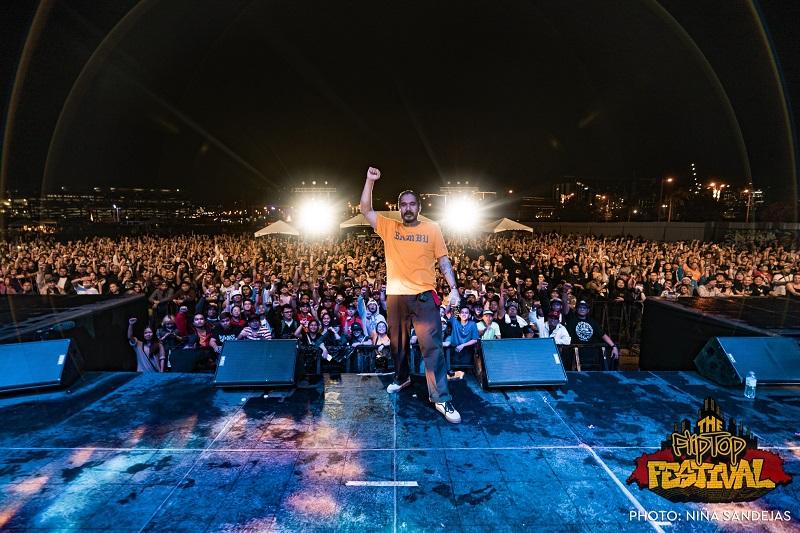 THE TRUE FINALE:
In an interview prior to the festival, Anygma mentioned that Loonie might not be able to attend. After his controversial arrest in late 2019 for drug trafficking charges, he was finally allowed to post bail after court hearings deemed that there were inconsistencies regarding the nature of his arrest and the lone witness' testimony. Anygma said that Loonie deserves time to rest and privately enjoy being with his family, and that made a whole lot of sense. Still, there was a side of me hoping that he would make a surprise appearance, as I believed he was that kind of emcee: ever hungry and always ready to grab the mic.
After Bambu's set, Anygma once again stated that it was unfortunate Loonie could not come and that he deserves his rest. Anygma played one last tribute video dedicated to Loonie, welcoming him back to the free world. Shortly after the video ended, as me and my friends were walking towards the portalets, we heard a familiar voice on the mic, and Loonie's classic song "Walang Babala" started playing. He *did* come after all! I was completely tired at this point, after two days of standing around in muddy, uneven terrain, but hearing that voice jolted my energy back up to maximum, and I had to run back to the Main Stage. I couldn't miss a single moment of this.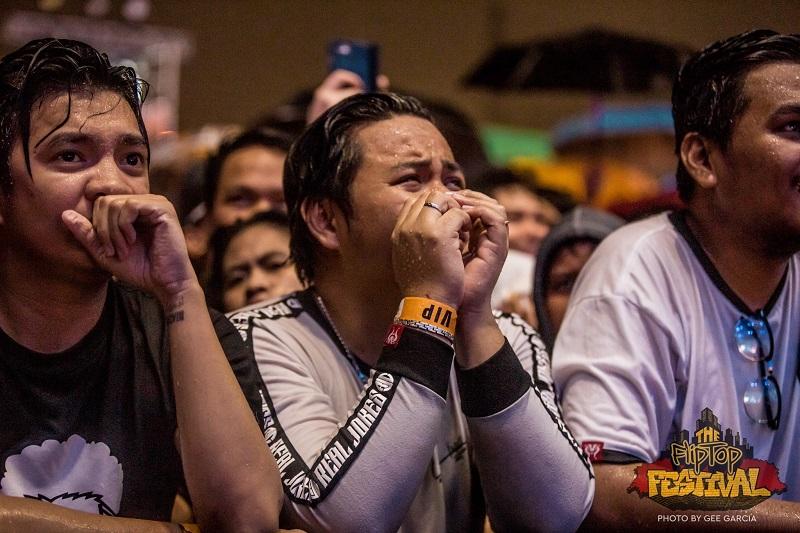 Hearing "Walang Babala" and "Balewala" just stirred up so much emotion inside me; all the things that Loonie went through gave new meaning to the song lyrics, "nagbabalik ng walang babala", and "anuman ang hangarin sa akin ng langit ay kakayanin ko". I was happy when I first heard that he was out of jail, but it didn't feel real until he was finally right in front of me. Hearing how happy he was to be back, proclaiming his innocence and that he was proud because "nakatitigan ko nang mata sa mata ang injustice sa Pilipinas", made tears well up in my eyes. I could barely sing along to "Tao Lang" because my voice was cracking up from crying. He was my biggest idol in FlipTop since 2010, and seeing him free was like if Kobe Bryant (RIP) survived his helicopter crash and made a full recovery. I can only imagine how people who've been a longer fan of him must have felt.
While Bambu, without a doubt, had the greatest performance in the whole event, it was only right that Loonie be the last performer because of what he meant for FlipTop. He was considered by many (even his own competition) to be the league's best emcee for its entire decade, and he was heavily involved in many of the classic storylines in FlipTop's history. His 2010 obliteration of the legendary-but-rusty freestyle champion Zaito propelled FlipTop into a global phenomenon. His two-year rivalry with the freestyle master Dello (whose classic battle with Target also became one of the cornerstones behind FlipTop's popularity), and the threat of the lyrical up-and-comer BLKD (who forever raised the standards of lyricism in the league, and was on a win streak at the time) culminated into a legendary three-way battle at Ahon 3 (2011) where Loonie defeated both of his biggest rivals on the same night, a feat that might never be replicated again in the modern format. His classic 2012 Dos Por Dos Tournament run with Abra yielded so many classic battles, and though they ended up losing to Smugglaz & Shehyee in the semi-finals, that battle is still considered to be FlipTop's greatest battle of all time. His 2013 Araneta Dreams battle with Dizaster, the biggest battle emcee in USA, was a 5 million-view hit and a giant star on his resume. His 2014 battle with the Isabuhay 2013 Champion Aklas, the most outlandish emcee in the league, ended up being one of the most-viewed and most entertaining battles of all time. His 2016 Isabuhay championship run, which led to his semi-finals victory against the favored heavyweight Tipsy D, finally fulfilled one of the most requested match-ups over the years. His surprise English battle with Mark Grist put FlipTop on the world map again after being featured on Red Bull's battle rap documentary.
Even after all of these career highs, he's still the focal point of many heavily requested match-ups. Loonie vs Smugglaz, Loonie vs Sak Maestro, Loonie vs Sinio, Loonie vs Mhot, Loonie vs Protege... even his current prospect, a battle with the Russian superstar Oxxxymiron, will surely be a giant leap forward for Filipino battle rap. Even though he's achieved great commercial and critical success with his music career, and has pushed for ways to put hip-hop on the mainstream limelight (such as his Tulfo-hosted show where emcees debated social issues in a battle rap format), he will still forever be known for his legacy in FlipTop. Just as URL legend Murda Mook once said, "when you say SMACK, you say Mook", when you say FlipTop, you say Loonie.
Loonie ended his set with "Cerberus", a rapid-fire posse track with Abra and Ron Henley, told the crowd to watch out for his comeback tour, some new music, his next battle, and bade us farewell. The festival finally felt whole.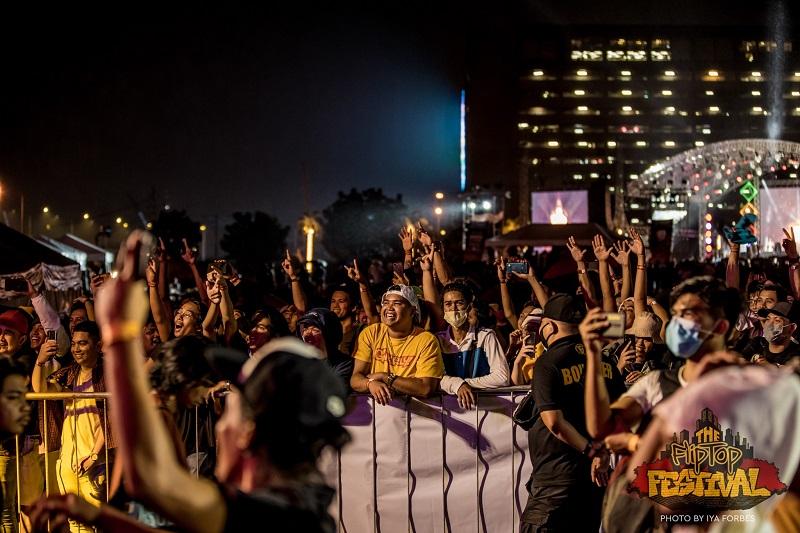 CLOSING CREDITS:
There were still two battles after the performances: Shernan vs Poison 13 and Sak Maestro vs Zaito, but these felt like bonus content compared to what I just witnessed. I can't speak for the quality of the Day 1 battles (Tipsy D/Sinio vs Lhipkram/Jonas, and Pistolero vs Fukuda) since I wasn't able to see it, but the Day 2 battles were light-hearted promos where the battlers' objective was simply to entertain rather than compete. And this is totally fine, as most of these emcees had to perform musical sets prior to this, and I can imagine that they wanted to relax and enjoy this event just as much as any of us. After a gimmick battle between Shernan and Poison that many in the crowd found entertaining, and a hilarious freestyle battle where Zaito was completely in his element, the festival was officially over.
It doesn't feel wrong at all that the festival ended like this, because we already got what we came for. FlipTop had a historic two days of celebrating the hip-hop culture, demonstrating the strength and resilience of a long-existing but divided community that Anygma had rallied together and helped enrich for a decade. We all owe thanks to Anygma, who tried his best to put the entire culture into the spotlight. He was a true visionary who set aside his own personal stakes and biases in order to help accelerate hip-hop into directions that are not on his hands, but ours. And I hope the turnout for the festival was a good enough "thank you" for all these years of fun and solidarity.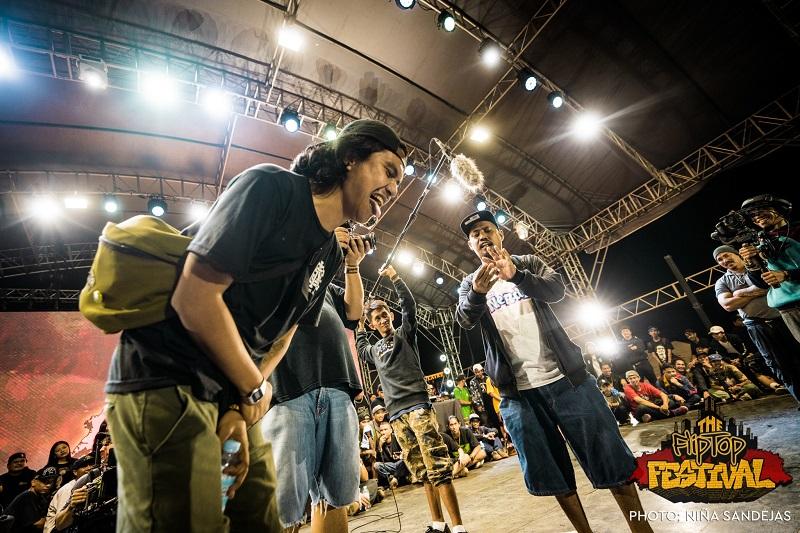 This is going to sound incredibly cheesy, and I cringe at myself for having to say this, but the biggest gift that FlipTop had given its community was the bonds that were developed over its course. Crews and brotherhoods/sisterhoods were formed, respect was given around, rivalries were sparked and resolved in healthy ways, and quiet solidarities became genuine friendships, like Anygma and Gloc 9 bonding over the respect they had for each other despite not having worked together until now. I made some of my closest friendships (in and out of the hiphop scene), discovered my biggest influences in music, and met the girl who became the love of my life thanks to my love for FlipTop. I'm sure FlipTop isn't going anywhere, but I'm gonna be 26 soon, and I'm going to have to slowly shift my focus towards other paths in life.
Hip-hop will always be a part of my life, but if this ends up being the last or most heartfelt essay I ever publish about FlipTop, then this was a very satisfying closure to the most fun decade of my life so far. Thank you, FlipTop, and more power to you forever.