These are the battles that made Bwelta Balentong one of the greatest events in FlipTop. Check it out!
It's now considered by fans and emcees as one of FlipTop's most exciting events of the year and rightfully so. Ever since its inception, it has given us moments that revolutionized not only battle rap but Pinoy hip-hop in general. You can always expect a battle of the year candidate on this night. Here are the eight matches that made Bwelta Balentong a must-see affair!
We decided to choose one battle per event, and it was a difficult process indeed. Keep in mind that this is subjective, so no need for violent reactions. If you have your own list, feel free to share it in the comments section. Let's get started!
8. Apekz vs Mastafeat
This Isabuhay 2021 bout is the perfect example of an epic style clash. We have an aggressive Apekz going against the more comedic Mastafeat. Since both emcees were in their A game, there were absolutely no dull moments in this match. The loud reactions are proof that each line was effective. In the end, it was Apekz who went home with a victory. It's truly a battle worth watching several times.
7. Apoc vs Marshall Bonifacio
From the first to the third round, Apoc and Marshall Bonifacio gave us a lesson in battle rap lyricism. Apoc focused on utilizing ill metaphors while Marshall Bonifacio retaliated with personals. They didn't hold back at all. You could feel total aggression in their voice as they spit their fire lines. It all came down to the judges' decision, and on that night, they decided to give the W to Apoc. Indeed, it could go either way.
6. Sixth Threat vs Poison13
Sixth Threat vs Poison13 is definitely one of the highlights of the 2019 Isabuhay Tournament. This semi-final match is a masterful showcase of not only lyrical ability, but also stage presence. These emcees performed like their life depended on it. There wasn't a single moment here where they calmed down, even for a bit. Sixth Threat got the victory here and went on to win the championship in the finals. Since then, both rappers are considered heavyweights in the league.
5. Tipsy D vs Apoc
Nobody expected this to be a back-and-forth matchup. Almost everyone assumed Tipsy D would easily get the win, but Apoc didn't let that happen. The Uprising emcee gained plenty of new fans after this, thanks to his brutal lines, effective angles, and ruthless presence. His first round is now regarded as one of the best openers in FlipTop. As for Tipsy D, he once again showcased his brilliant metaphors and multisyllabic rhymes, and he delivered them all flawlessly. His total package style is his biggest strength, and it's evident here. He was ultimately declared the winner of this instant classic.
4. Apekz vs Mhot
From the countless quotables to the deafening reaction of the audience, there's no denying that Apekz vs Mhot is the battle of the night at Bwelta Balentong 4. Many would even agree that it's the best battle of 2017. This Isabuhay semi-final was a straight-up brawl and both competitors gave it their all. Apekz went in for the kill with his always-impressive rhyme schemes and shocking angles while Mhot came in with his innovative technical pen game and crazy rebuttals. After three rounds, the judges decided to give it to Mhot, who eventually became the champion.
3. Loonie vs Tipsy D
Two of the most popular emcees in the league finally faced off! Did it live up to fans' expectations? Yes! Loonie and Tipsy D went one hundred percent with their pen game and delivery and they showed absolute confidence on stage from start to finish. They were virtually identical in every aspect, but it was Loonie's angle exposing Tipsy's jacked lines that got him the victory in this 2016 Isabuhay bout. While it was a clear win for Loonie, Tipsy D still deserves props for his overall performance. Some fans agree that this is the best match in the tournament.
2. BLKD vs Shernan
BLKD vs Shernan for the 2015 Isabuhay quarterfinals is another style clash that will forever be remembered. Shernan dissected his opponent's overall style and personality using his unique brand of humor. BLKD also incorporated comedy, but his main focus was his vicious technical rhyming. Both styles were highly effective as proven by the cheers of the crowd. Shernan won by unanimous decision, and up to now, fans are still debating about it. The fact that many are still talking about the outcome of this match is proof that it was indeed a back-and-forth classic.
1. Abra vs Harlem
The first Bwelta Balentong event gave us lots of great matches, but from a consistency and lyricism standpoint, this is without a doubt the best one. Abra and Harlem delivered solid punches while retaining the quality of their multisyllabic rhymes. You could say that this is one of the matches that further popularized the concept of multis. Abra was declared the winner, which was the perfect redemption story for him. He previously lost to NothingElse and Batas due to stumbles.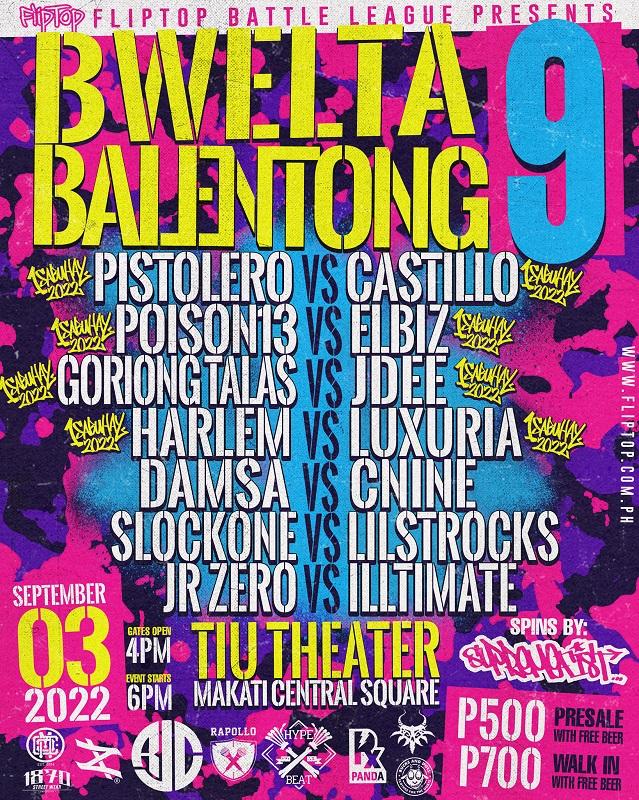 We'll see you all again on September 3 at Tiu Theater for the ninth edition of Bwelta Balentong. Send a message to FlipTop's official Facebook page now if you're interested in purchasing pre-sale tickets. Based on the lineup, it definitely looks like we're in for another epic night. Don't forget to bring your family and friends!