2016 was definitely a memorable year. Rookies made a name for themselves, veterans stepped up, and battle of the year contenders were at an all-time high.
2016 has got to be one of the most exciting years for FlipTop. From Grain Assault (February 6) to Ahon (December 16 and 17), we saw both newcomers and veterans make an impact. The so-called Hari ng Tugma (King of Rhymes) Loonie finally lived up to his moniker by winning the Isabuhay championship. It was long overdue for the Stick Figgas representative, who has been entertaining the crowd with his complex rhyme schemes, clever bars, and confident delivery since the league's inception. Like any other coronation, Loonie went through some serious competition. He took on fellow veterans Tipsy D and Plazma in the semi-finals and finals respectively, both of which were back-and-forth showdowns. Without a doubt, the 2016 Isabuhay Tournament will always be remembered for its unpredictability.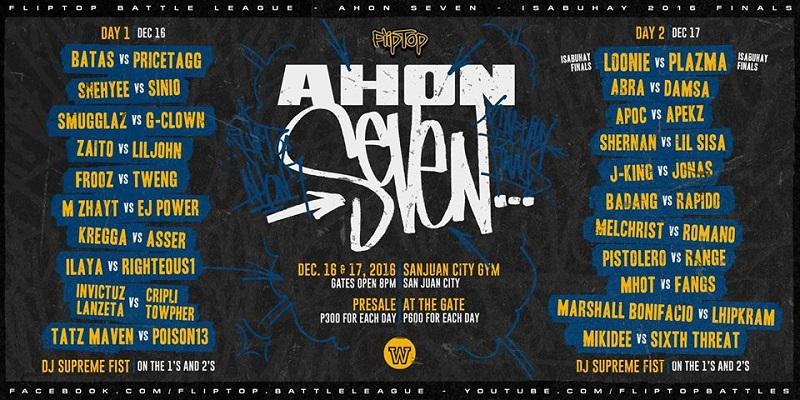 Many would agree that Bwelta Balentong III is one of the best FlipTop events ever. This is the night where Loonie and Tipsy D went head-to-head in what is now regarded as a classic. Smugglaz also proved at this event that he's still a top-tier emcee. Up to now, fans are mesmerized by his epic performance against an equally-impressive Rapido. EJ Power, who was just starting out, got the W in a very entertaining bout against LilJohn (RIP). It was the type of battle where it didn't matter who won because both rappers were impressive. Mhot was also just a rookie at this time, but he dominated all three rounds versus Onaks. If you're a Team Mhotivated member, you know that he's only getting started!
Renowned UK rapper Mark Grist traveled to the Philippines in October as part of a battle rap documentary from Red Bull. He explored our country's culture and of course, showcased his skills as an emcee. The English Conference, for a brief period, made its return! He faced Loonie at the underrated Unibersikulo 4 event and Protégé at an invite-only affair at Treskul Café. All three competitors were able to highlight their overall rap abilities. Much props to Mark Grist and the Red Bull team for producing an informative piece about the scene.
FlipTop, as always, remained active even outside of Metro Manila. Just like in 2014, Cebu witnessed two amazing Gubat events in one year. The first one was on March 12 while the second one took place on September 24. There was a Process of Illumination event on March 11 as well, which consisted of written tryouts and an old school format tournament. The latter was won by LilJohn who joined at the last minute. It was proof of LilJohn's incredible skill as a freestyler. The tryouts also paved the way for Visayas Division standouts such as Marshall Bonifacio, Chris Ace, and Martin. July was a special month for Davao and the rest of the Mindanao Division. On the 15th, there was a special Mindfields show featuring artists from Metro Manila and Mindanao. Pakusganay 2 happened the day after, and it produced classic matches and lots of memorable moments. Other historic events outside of the Metro include Kataga 3 (February 20) and Aspakan 4 (June 11).
On the 14th of May 2022, Anygma and co. will return to Cebu for another edition of Gubat. Make sure you constantly check out the league's official Facebook page for further announcements regarding the event. Let's hope that just like 2022, this year will bring us plenty of unforgettable moments. Second Sight 10 last week was truly a very good start.