Is it a certified banger or a forgettable joint? Here's our review of Shanti Dope's latest song and music video "Maya".
On April 27, 2022, Shanti Dope once again shocked the local hip-hop community with the release of the music video for his latest song "Maya". It has now reached over 600,000 views on YouTube and over 40,000 plays on Spotify, which is unsurprising because Shanti remains to be one of the most recognized names in the music scene. However, does the song and music video deserve all the hype it's been getting? Let's talk about it now.
The song:
"Maya" (the name for a certain Filipino bird) begins right away with a hook that may sound like your typical braggadocio song, especially with the line "parang Maya na malaya ang lipad, habang tumataas lalong lumalalim ang bulsa". Once the first verse kicks in, you will then realize that it's actually an inspirational anthem. "Maya" celebrates those who've chosen to take risks in whatever field and ended up being successful. By thinking out of the box, you can expect to fly freely like a bird, hence the title. Shanti Dope has always been known for his complex rhyme schemes, but what made him popular is that despite the intricacy of his bars, he still makes sure the listener understands the message clearly. It's no different here with lines such as…
"Ang bagong pag-asa ng bayan, gumagawa ng kasaysayan,
di basta nagpapatangay sa agos, meron din gustong patunayan .
Malaya ang pag-iisip, bukas ang puso at diwa,
sangkatutak na ideya sa utak ang nakapila.
Diretso di tumitigil madami mang humihila pababa
ay positibo pa din dalang enerhiya"
Or…
"Di nawawalan ng gasolina.
Kahit malayo ang biyahe, nakakabingi man ang mga busina,
Makina mainit pa sa kusina,
para sa kinabukasang gusto ko makita, bago sa kama dumilat,
di nila mapipigilang, kasabay ng bagong araw sumikat"
And…
"Di papatalo kapag ang usapan ay sining at teknolohiya.
Pinakabago, hindi nakapako na lang sa mga makalumang ideya.
Parang bukas na libro walang itinatago,
paningin ay klaro sa mga gusto pa maging,
sa tuwing haharapin, taong nasa salamin"
There are so many quotables in this track, which just proves that Shanti Dope is an elite lyricist. His mesmerizing flow undoubtedly adds more impact to each bar, making it not only a motivational hit but also a very catchy one. As for Klumcee, he continues to be the perfect producer for the Young God emcee. The aggressive vibe of the overall sound compliments Shanti's uplifting verses. Indeed, there will be moshpits when they perform this!
The music video:
When Shanti Dope posted a teaser photo for the MV, it instantly caught the attention of his huge fanbase. The image of the rapper standing on top of a utility pole became a trending topic all over social media and everyone expected a groundbreaking visual masterpiece. A few days later, the official music video dropped, and it certainly lived up to the hype. First off, good job to the cinematographer(s) for successfully capturing the streets of Manila. From the ground to the drone shots, it offers a point of view that will make you appreciate the chaotic and gritty atmosphere of the concrete jungle. Next up, the visual effects are truly something else. Some of the highlights include the underwater, train, and building scenes, which at first glance look very realistic. The animated sequences are also enthralling, thanks to the mixture of various colors.
Now, let's talk about the utility pole scene. Yes, Shanti really did stand on it, and he showed no ounce of nervousness at all. This, along with the train and building shots, are simple yet very effective symbolism for the song. It's a portrait of an individual finally reaching the top because he believed in himself, no matter how different his vision was from the rest. Lastly, the director did an awesome job in mixing scenes of Shanti rapping with shots of people enjoying their fruits of labor from their unorthodox career paths.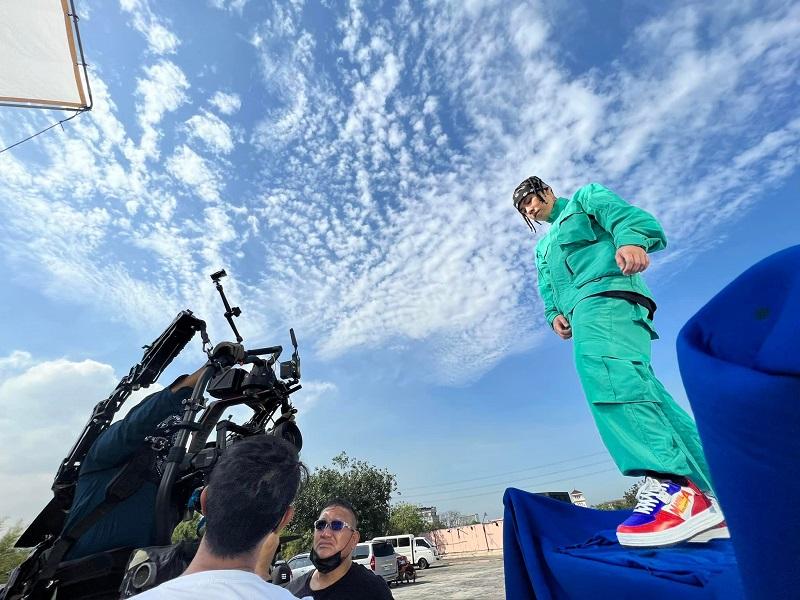 Conclusion:
It's safe to say that "Maya" is another banger that Shanti Dope can add to his greatest hits. The meaning of the track remains clear even with the unpredictable multisyllabic rhymes and the production is head nod material. As for the music video, it will certainly entice artists to step their game up. 2022 is far from over, but don't be surprised if the "Maya" MV will end up on a few best of the year lists.