These are 8 battles during the pandemic era that feature epic style clashes! Which is your favorite?
The pandemic happened, but it wasn't enough to stop the momentum of FlipTop. Because of the current situation, the league is forced to push through with its events without the presence of a live crowd. It didn't take long for the doubters to be proven wrong because when the battles from the first quarantine event were released, it immediately made waves within the scene. New emcees shined, veterans showed that they still got it, and plenty of historic matches took place.
One of the many highlights of FlipTop's quarantine events is the epic style clash. These are the battles where two emcees of very opposing yet equally effective styles face off. Let's take a look at 8 of the most notable clashes of this type during the current pandemic era. The entries are listed in no particular order so no need to argue who should be first, middle, or last.
8. Jonas vs Onlison
It may look like a one-sided affair at first viewing, but the 2020 Isabuhay Quarterfinals match between Jonas and Onlison is actually a great back-and-forth display of battle rap lyricism. Onlison, formerly known as Ran, refused to compromise and stuck to his remarkable technical style of writing. While most of his rhymes went over the heads of the majority of viewers, there's no denying that his performance as well as his consistency remain impressive.
Jonas did what does best in this battle: highly infectious comedy delivered perfectly. He dissected Onlison's complex style in a sarcastic way, making it more effective. If this happened in front of a live crowd, the whole place will certainly erupt in laughter. It doesn't have intricate concepts or rhyming, but Jonas was pretty much aware of it. He will always prefer the in-your-face approach, and that is why he remains one of the most popular comedians in the league.
7. MastaFeat vs Righteous1
Righteous1 made his return to the battle scene in October 2020. He faced off against Mastafeat, whose last appearance was at the inaugural Won Minutes event in 2019. Righteous1 meant business once he started rapping. He combined English and Tagalog lyricism and came out with some of his best punchlines to date. His lines were a mix of straightforward and complex, and thanks to his flawless delivery, each one was able to hit hard. Unfortunately, Righteous1 stumbled in the later rounds, causing him to lose the bout. Still, let us all appreciate him for further improving his pen game.
This is arguably the battle where MastaFeat truly showcased his skills. He relied on the usual angles for his opponent, but he made sure to keep it creative all throughout. MastaFeat also showed his unique approach to comedy. He can go from deadpan humor to direct clowning without looking or sounding forced. While some of his jokes may sound too obscure, it can still produce laughs thanks to his strangely effective delivery.
6. JR Zero vs CNine
This is the most recent matchup on the list. JR Zero vs CNine took place on Zoning 13, and it was a perfect example of how broad Pinoy rap lyricism is. JR Zero unleashed his mind-bending rhymes and concepts combined with a rapid-fire flow. CNine, on the other hand, kept it simple without losing his creativity. He successfully blended jokes and serious bars and also managed to spit a few impressive rebuttals. CNine's overall performance got him the W, but it's a really close fight if we're talking about the punchlines.
5. K-Ram vs Vitrum
K-Ram vs Vitrum happened at Bwelta Balentong 7, and fans and emcees agree that it was a heated clash of styles. K-Ram showcased his innovative humor, which became much more powerful thanks to his complex rhyming and solid delivery. As for Vitrum, his opponent's overall style wasn't enough to intimidate him. He was more aggressive than ever and still managed to brilliantly utilize sociopolitical aspects in his rounds. He has also improved his delivery as well as his technical pen game. It won't be surprising if you think that it was a close match upon second viewing.
4. Akt vs Sirdeo
This Ahon 11 battle is undoubtedly one-of-a-kind. Both emcees have a leftfield style, but with a different approach. Sirdeo has more of a dark comedy vibe while Akt does a spoken word type of rap with a playful delivery. Their angles and antics have never been done before, making the match a truly unpredictable affair from start to finish. It's not for everybody, but those with an open mind will appreciate it.
3. Jonas vs Sayadd
It's another back-and-forth match that took place at Bwelta Balentong 7. Jonas was on-point, as always, with his jokes and overall creativity. It's a total contrast to Sayadd's menacing delivery and intricate punches. There are bits of humor in Sayadd's rounds, but he made sure that his hard-hitting style was more dominant. However, like with his previous battles against similar opponents, Jonas didn't show an ounce of worry all throughout. He remained confident with his style and stayed consistent up to the final round. This showdown definitely kept viewers on the edge of their seats.
2. Akt vs MastaFeat
This is clearly a candidate for the most controversial battle of 2021. Akt vs MastaFeat at Zoning 13 caused a lot of commotion in the comments section, with the majority disagreeing with the result. Many didn't like MastaFeat's supposedly "shallow" style, but let's not ignore his unique brand of humor as well as his impeccable freestyling ability. While it's good to see the technical, more serious style get the recognition it deserves, let us not ignore the impact of comedy in battle rap's long history.
Akt deserves all the praise from the FlipTop fanbase. He started out with a traditional approach but eventually decided to explore and further elevate his writing. Apart from his unorthodox rhymes, coming up with crazy ideas in his rounds has been Akt's specialty. He's now officially one of the most original emcees in the league.
1. Harlem vs Zend Luke
Check out the comments section of this Zoning 12 battle and you'll see various fans arguing about who really won. These discussions only mean one thing: the match was indeed a back-and-forth classic! Harlem vs Zend Luke wasn't just lyrical warfare, but it was also a great example of a perfect style clash. Harlem, who already made an epic comeback last year, remained in top form here. His multisyllabic rhyming continues to be awe-inspiring and he almost never misses with his heavy punches. Harlem has also vastly improved in constructing angles. His third round breakdown of Zend Luke's personal and social media life is definitely going to be in many highlight reels by the end of the year.
Zend Luke came in as the underdog in this matchup, so he made sure to silence all of his critics. Instead of watering down his pen game for the casual viewers, he chose to represent the leftfield style to the fullest. Zend Luke utilized his wide vocabulary while retaining the effectiveness of every punchline. What made his bars even more hard-hitting was his delivery, which was possibly his most aggressive to date. You can simply hear the hunger in his voice from the first to the last round.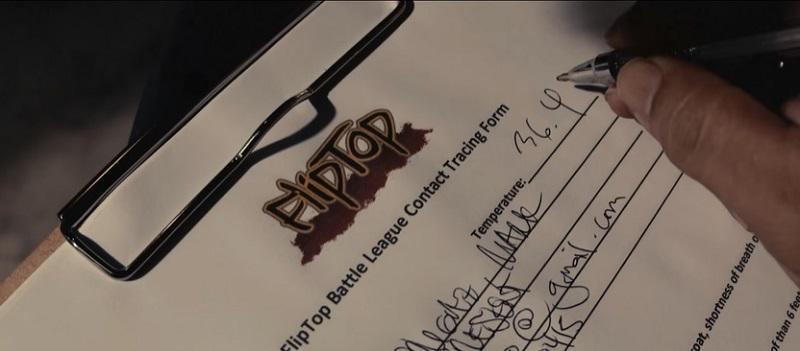 So what's your favorite among these exciting matchups? Make sure you let us know in the comments section. Hopefully, we're finally seeing the light at the end of the tunnel for this pandemic. Expect FlipTop and the emcees to be stronger than ever when things go back to normal. For now, stay safe, get vaccinated, and continue practicing minimum public health standards.