Will they be coming back in 2023? These are 5 FlipTop events that we really miss!
Throughout its 13-year history, FlipTop has organized over a hundred events nationwide. Most of them are still happening now while some suddenly stopped taking place. Today, we're going to talk about the inactive events of the league that we hope will make a comeback very soon. These affairs have provided plenty of moments that changed Philippine hip-hop forever, so who knows? Maybe this piece will inspire Anygma and the rest of the staff to bring them back. Let's start…
Aspakan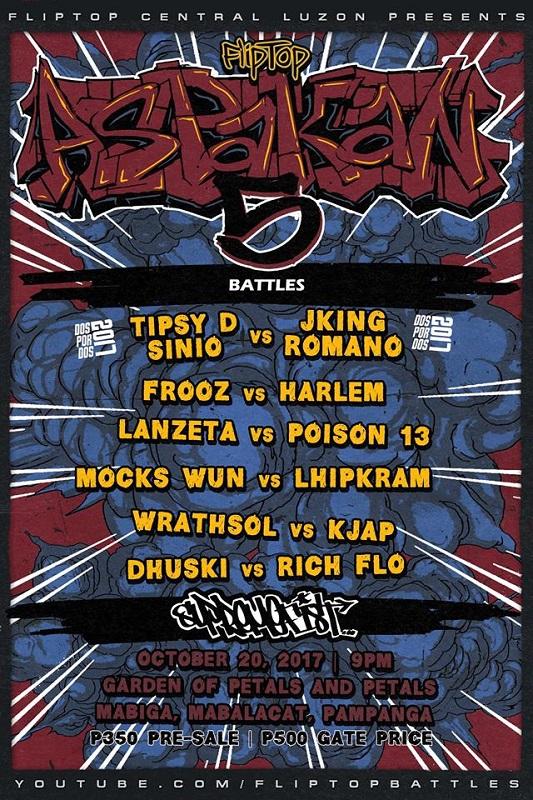 Since 2012, Pampanga has been the home of FlipTop's Central Luzon Division. It's where the Aspakan event takes place. Apoc vs Sayantipiko, Tipsy D vs Sinio, Cerberus vs Lanzeta, LilJohn vs Lanzeta, and Sinio/Tipsy D vs J-King/Romano are just some of the classic matches that happened here. Aside from the amazing battles, it also has one of the best crowds ever. October 20, 2017, is the date of the last Aspakan event.
Kataga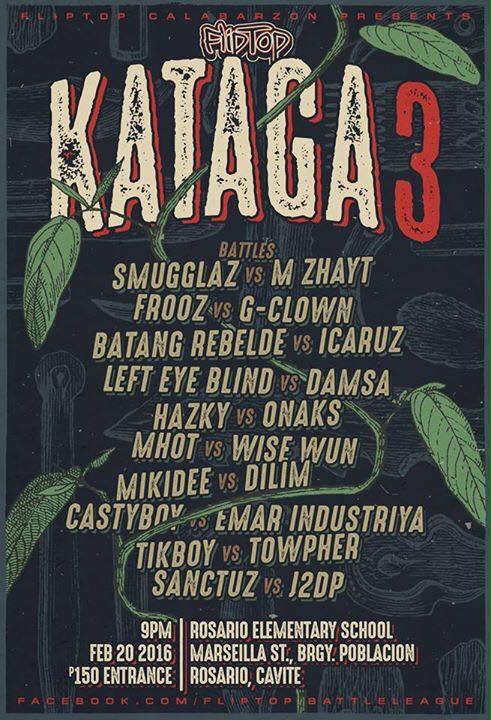 Cavite has always been known for its vibrant hip-hop scene, so it's absolutely no shocker that FlipTop decided to organize events there. Bara Ko Barako was the name of the inaugural battle showcase in the city in 2011 but was changed to Kataga one year later. Since then, we've witnessed gems such as Crazymix vs Rapido, Melchrist vs Elbiz, and Smugglaz vs M Zhayt. The Cavite crowd didn't disappoint as well, with their loud but respectful reactions.
Pakusganay, 082 Magnitude, and Different Ways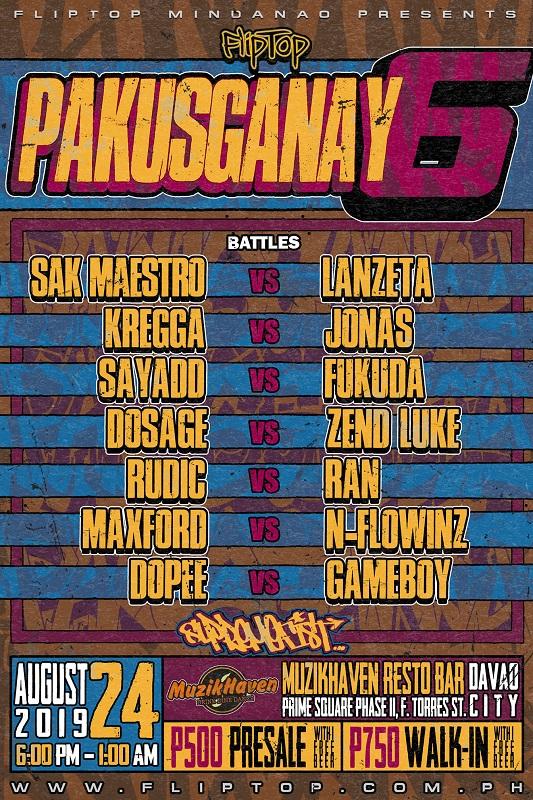 We decided to put all three events in one entry since they all take place in one city. When it comes to the greatest FlipTop live audience, it's always a tie between the Davao and Cebu crowds. Cebu saw the reemergence of Gubat on May 2022, so we're keeping our fingers crossed for the league's eventual return to Davao. The audience appreciates all kinds of battling styles, just as long as it's of excellent quality, and the majority of the competitors always bring their A-game. Davao has given us masterpieces such as Zero Hour vs Sak Maestro, Pistolero vs Nikki, Sixth Threat vs Rudic, Sak Maestro vs M Zhayt, Poison 13 vs Dosage, Tatz Maven vs Marshall Bonifacio, and so many others.
Tectonics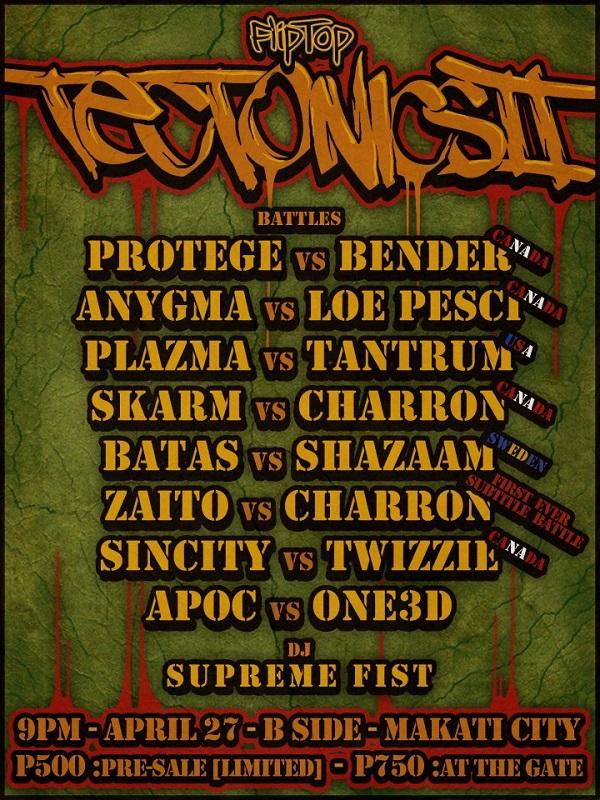 There are only two Tectonics events so far, but both are considered monumental because of the international battles. The first Tectonics featured Luck Loosh, Blasian, and Dirtbag Dan while the second one had Twizzie, Shazaam, Tantrum, Bender (RIP), Loe Pesci, and Charron. Tectonics proved to the whole world that our local emcees have what it takes to compete with their overseas counterparts. The Filipino Conference battles are undoubtedly epic, but it would be nice if we can see some English bouts again. It's much more exciting when there's variety!
The FlipTop Festival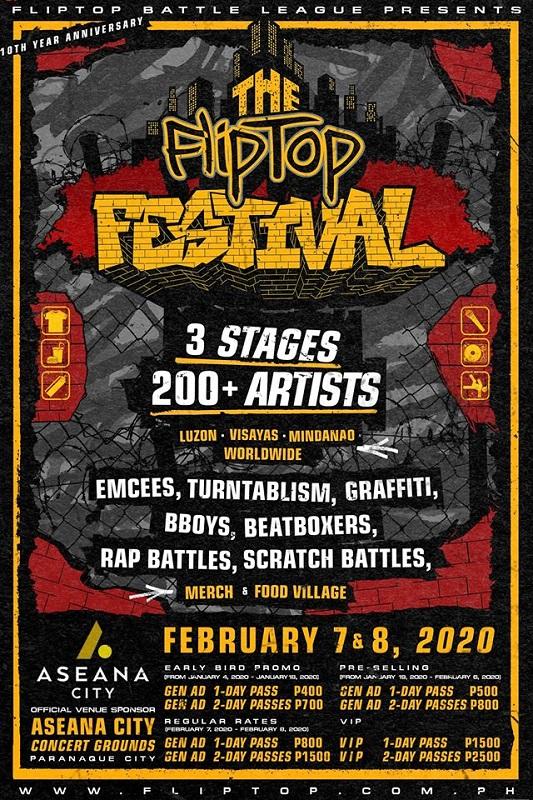 History was made on February 5 and 6, 2020. It's where we witnessed the first-ever FlipTop Festival. It wasn't just the tenth-anniversary event of the league. It was a celebration of Philippine hip-hop as a whole. The festival had three stages and over 200 performers from different parts of the country. Apart from emceeing, fans also had an up-close look at the art of breakdancing, turntablism, and graffiti. It's safe to say that the whole scene was united during this two-day spectacle. Unfortunately, COVID halted plans of doing another one the year after, but maybe now there's hope!
READ ALSO: 13 Pinaka Makasaysayang FlipTop Battle Kada Taon (Mula Sa Isang Fan)
Did you attend any of these events? Kindly share your personal stories in the comments section. We'll just have to wait and see if they will indeed return soon. For now, let's continue supporting FlipTop, the emcees, and their various projects. There will surely be plenty more in store for us solid fans in 2023. Enjoy the ride!