The competition is heating up! Let's talk about the current lineup of the 2022 Isabuhay Tournament.
2022 has been an excellent year so far for FlipTop. Not only did we see the return of live crowds, but we're also witnessing a very exciting edition of Isabuhay. The good news is that we're just at the first round of this annual contest. Expect the competition to be even more thrilling as we move further through the brackets.
For now, let us talk about the current lineup of the tournament. It's arguably the most diverse and unpredictable in the league's history. There are obvious favorites, but keep in mind that we've seen plenty of shockers in the past. Let's begin…
Goriong Talas
Fans agree that Goriong Talas was in "god mode" in his first-round bout against Pen Pluma at Gubat 10. You can tell by his overall presence that he's more than ready to take that top spot by the end of 2022. Talas' pen game and delivery have improved further, and if he stays consistent throughout, he has a huge chance of reaching the finals!
JDee
JDee gave an incredible performance at Second Sight 10 versus Zaki. Apart from his strong stage presence, his unpredictable writtens and freestyles also continue to be his greatest weapons. Don't be surprised if he gets even more impressive in the next round. He's one of the best emcees to emerge in the league's pandemic era, and he won't let his momentum slow down.
Castillo
Castillo may be a fresh face in FlipTop, but he's like a veteran in his past two battles. He quickly gained confidence and was able to balance comedy and serious bars with ease. His rebuttal game also continues to be effective. If he sticks to his "total package" style, then he'll certainly be a legitimate threat in this tournament.
Plaridhel
One of the two emcees in Isabuhay that represents the "leftfield" style of rapping. Plaridhel instantly became a fan favorite after a very solid performance against Slockone at Ahon 12. Now that he's in the tournament, expect him to be more dangerous. If he adds more aggression to his delivery and show more confidence, then he'll surely be a force to be reckoned with.
Pistolero
Like Goriong Talas, Pistolero is no stranger to Isabuhay. He was a finalist once and has always brought his A game to the tournament. Will he finally take home the crown this year? Aside from experience, Pistolero is also a beast when it comes to angles, jokes, technicality, and rebuttals. If he can surpass his previous performances, then we might be looking at the next champ.
Luxuria
Luxuria's first-round battle against Zaito is already considered a classic. In the next round, she'll certainly aim to be more dominant. She has the bars and the stage presence, and if she stays consistent with her verses, then she'll go far in this contest. Luxuria's comedic ability has also vastly improved, so it would be awesome for her to utilize it again here.
Harlem
He made an epic comeback during the pandemic era and he's now one of the biggest threats in the 2022 tournament. Harlem has been killing it with his swagger and his flawless combination of hard-hitting lines and witty jokes. We all saw in his first-round clash with C-Quence that he's serious about winning the big one this year. His next opponent should bring his A game.
Poison 13
Poison 13 left everyone in awe after beating Slockone at Second Sight 10. It's pretty obvious from his performance that he has his eyes set on the championship title. He was holding back a bit in the previous tournaments, but it looks like he's going all out now. Apart from his rhymes, his presence and delivery got even stronger. Don't be surprised if he easily reaches the finals.
Zend Luke
Zend Luke proved at last year's tournament that he can roll with the top names of the league. He shocked everyone by defeating Harlem in what is now regarded as one of the best battles of 2021. Zend Luke eventually incorporated a more "battle-oriented" vibe to his style without letting go of his unorthodox lyricism. As long as he stays consistent and confident, he's going to be a problem in this tournament.
Elbiz
He has competed in Isabuhay and Dos Por Dos Tournaments before, but aside from experience, Elbiz's lyricism and execution also serve as his biggest strengths today. His multis are better than ever, and he can easily balance humorous and technical lines. As for stage presence, he has always been confident whenever he's battling. If he continues bringing his A-game, then he'll certainly be a threat.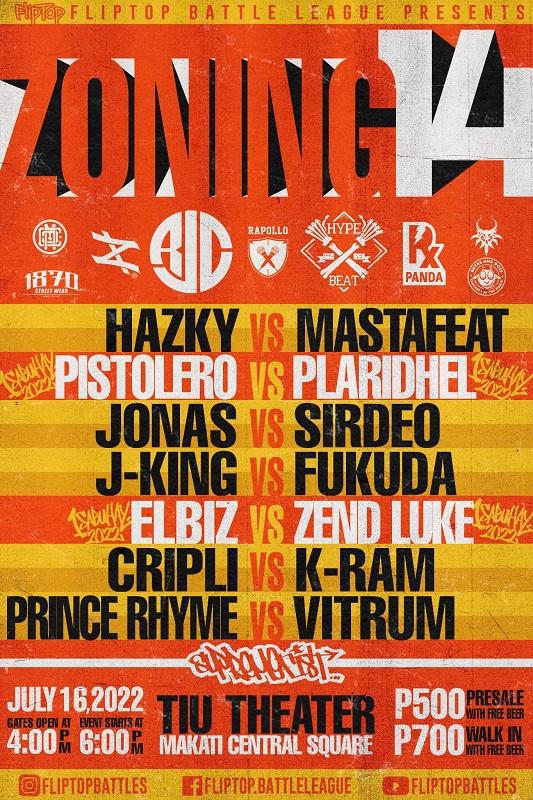 The last two first-round battles will take place this Saturday at Zoning 14! Don't sleep on the other matches too. It's definitely going to be an action-packed night. Check out FlipTop's official Facebook page for information on how to purchase pre-sale tickets. We'll see you at TIU Theater in Makati!