New faces, more memorable moments. This is a recap of FlipTop's 2014.
The year was 2014. Despite not getting any support from major sponsors, FlipTop is still making big moves. They kicked the year off with the fifth Grain Assault on February 7 at B-side. Each emcee on the card showed overall improvement in bars and delivery. There's no denying that things are off to a good start. Apart from the dope battles, the event also featured amazing DJ performances and a memorable open mic session.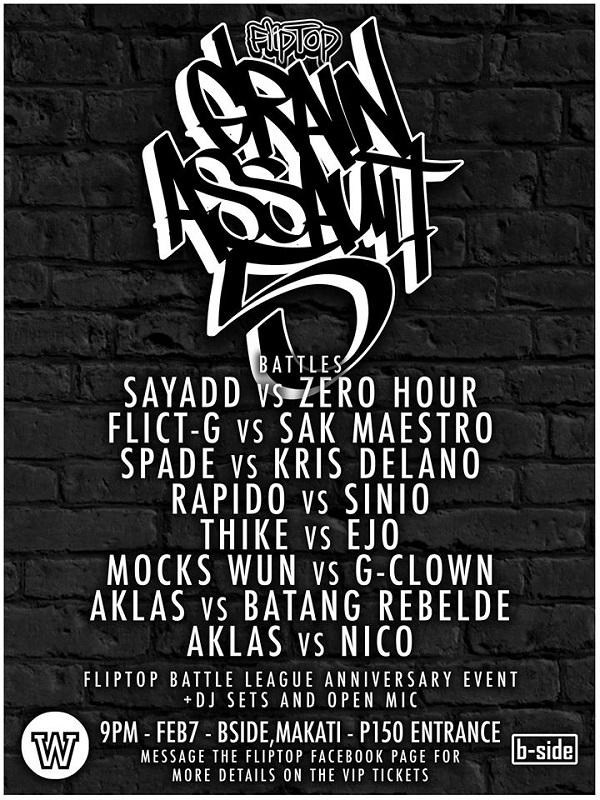 FlipTop made sure that more local rappers get an opportunity to step on the battle stage, so they've decided to organize two huge tryout events. The first one was the Ubec Mindfields on February 16 in Cebu. Eight lyricists competed in an old school format tournament, and they were all able to showcase their skills. The last man standing was Asser, who ended up becoming one of the best not only in the Visayas Division but in the league as a whole. The second event took place on February 28 in Makati, and just like the Cebu contest, it also used the traditional approach in battling (freestyle and with beats). 16 aspiring rappers signed up, each one having a distinct style. From the first round up to the last, fans witnessed lyricism at its finest. The final match between M Zhayt and LilJohn (RIP) was so good that Anygma decided to declare them both as winners.
There was no Dos Por Dos in 2014, but the league made up for it with a thrilling Isabuhay contest. The tournament once again featured elite battlers from different divisions and went on until the end of the year. Fans saw epic style clashes, classic back-and-forth matches, and some underrated gems. It was the veteran Batas who won the 100k grand prize and the championship title, thanks to his hard-hitting bars and much improved flow. This was just the beginning for this emcee who has been keeping it hardcore ever since his debut.
Ahon made its much-awaited return this year, and it was bigger than ever. The event took place on December 19 and 20 at San Juan Gym. Aside from the thrilling Isabuhay finals, Ahon 5 also gave us Loonie vs. Aklas, Sinio vs. Sak Maestro, Frooz vs. PriceTagg, Zaito vs. Smugglaz, and many other classic matchups. Majority of the emcees in the lineup stepped their game up, and the loud crowd reaction served as proof.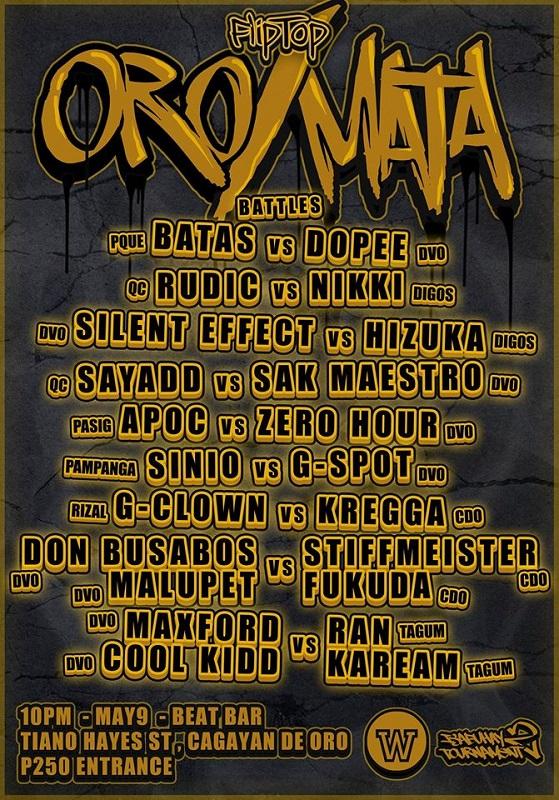 Staying true to their vision of expanding the Philippine hip-hop scene, Anygma and co. continued to hold events outside Metro Manila. Oro/Mata (May 19) was the first FlipTop affair to be held in Cagayan De Oro while Gubat (April 25) was the first MAJOR battle event in Cebu. Both had a relatively small attendance number, but when the battles made their way to YouTube, more and more fans started to show support to the Visayas and Mindanao Division. Cebu was once again treated to some quality hip-hop on October 19 with a collaboration event between FlipTop, Uprising, and Rapollo (a well-known league in the city). It featured performances from the Uprising roster as well as emcees and crews from Visayas. On November 23, FlipTop came back to Davao for a special hip-hop show. Artists from Uprising Records and homegrown talents performed on stage in front of a ruckus crowd. It also hosted the awesome battle between Kregga and Nikki. Other notable events outside of the Metro include Asapakan 2 (July 19) and Kataga 2 (June 28).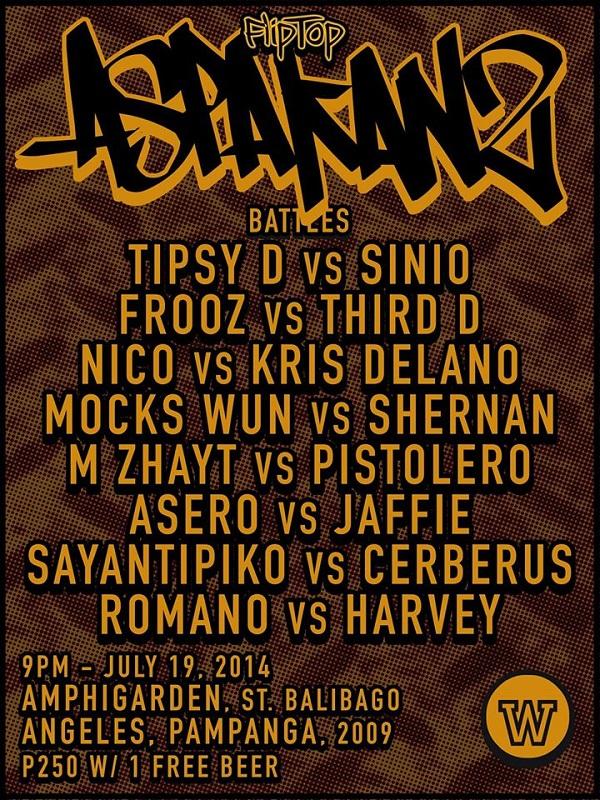 Time goes by really fast. It's 2022, and the league is still very much alive. This year promises to be another epic one so sit back and enjoy the ride. Who knows? We might see the end of the pandemic, which means the return of crowds in live events! Let's all adhere to minimum public health standards for now.