We just saw the music video for Akala Mo Ata by Nateman, Realest Cream, and CK YG. Here are our thoughts.
It started out in Chicago in the early 2010s and now it has officially reached the Philippines. Drill rap is a form of trap music that focuses on a darker subject matter, mainly violence in the streets. This subgenre was introduced to the Pinoy audience on the 2th of February 2022 through a single by three members of a collective known as OLGANG, namely Nateman, Realest Cram, and CK YG. The track is called "Akala Mo Ata" and today we will talk about not only the song but also the music video, which is directed and edited by Axl Flores.
The song:
"Akala Mo Ata" is your typical braggadocio hip-hop anthem. What makes it stand out is its incorporation of gangsta rap elements. While the other local braggadocio joints prefer to maintain a positive vibe, "Akala Mo Ata" chooses to go all out with its explicit content. Some might criticize the track for its ruthlessness, but it could also serve as a wake-up call to everyone: violence still exists in the Philippine streets.
Lyrically, this is the type of song that doesn't really need to be too technical. Nateman starts off with the chorus that may seem simple on paper, but he made it effective thanks to his energy and swagger. The same can be said for the famous lines in the verses…
"Gumagamit ka ng drill, pero diba taga village
Galing kami sa kalsada, habang yung sayo ay image"
- Nateman
"Lam mong lamon ka na di na makaahon pa
Dahil binaon ka na, nung lumabas limot ka na"
- Realest Cram
"Ba't di kayo papalagan huh
Eh puro lang b*tch
Puro takot naman 'yang mga goons mo huh
Tas puro pa snitch"
- CK YG
These lines don't have your usual complex metaphors or schemes, but the crowd usually sings along to them live. It serves as proof that delivery is also very important in rapping. The three emcees spit their rhymes with so much conviction that it's impossible for them to just imagine this lifestyle.
The beat, which is produced by OS, is the perfect example of a drill sound. It has harder drums, a slower tempo, and a grimier feel. Indeed, it succeeded in adding more aggression to the song. Overall, if you're a fan of southern legends such as Three 6 Mafia, Gucci Mane, and UGK, then you will surely dig this modern take.
The music video:
Staying true to the song's grittiness, the music video is shot in an abandoned building. The three emcees rap their hearts out while their posse goes wild in the background. It's reminiscent of gangsta rap videos from the 1990s. The impressive lighting and camera angles make up for the lack of narrative and visual effects. There are images of guns throughout the video, so kudos to them for putting a disclaimer at the beginning.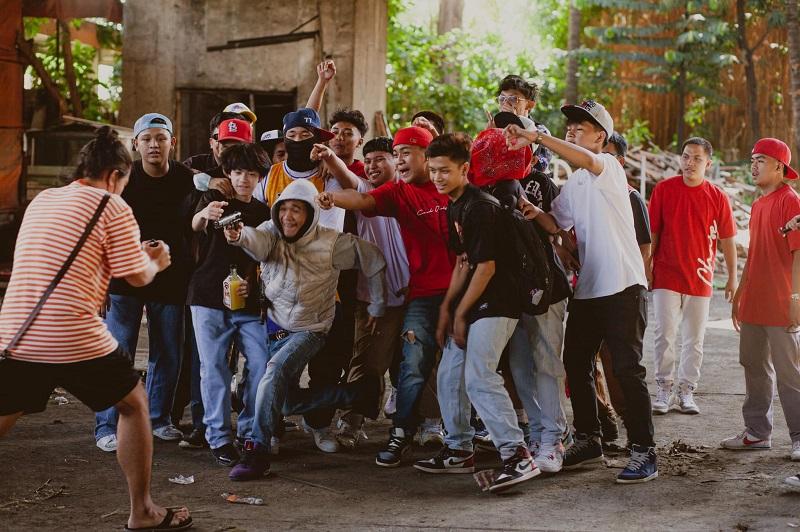 Conclusion:
With over 780,000 views, it's safe to say that drill rap is here to stay. The lyrics and visuals will undoubtedly shock and/or offend many, but they have always been a part of hip-hop, whether you like it or not. It's about time that we get an up-close look at the dark and REAL side of the Philippine ghetto. Ice Cube said it best "our art is a reflection of our reality."