Eight years later since its inception, FlipTop is still going strong. Here are the memorable moments of 2018 in the league!
2018 kicked off with a huge anniversary event on the 9th of February. Grain Assault 9 simultaneously took place in Metro Manila, Cebu, and Davao. Like the previous year, each event had a house party feel to it and featured the major elements of hip-hop. Fans witnessed emceeing, live instrumentals, breakdancing, DJing, graffiti, and beatboxing. Everyone certainly had a great time and learned a lot about the culture.
The 6th edition of Isabuhay was once again action-packed and unpredictable. It started off at Second Sight 6 and concluded at Ahon 9. After months of back-and-forth matches and unforgettable moments, the championship title and 100k grand prize went to Shehyee. It's a well-deserved victory for the FlipTop veteran who has been giving us his A-game ever since his debut in early 2010. The rest of the competitors also deserve props for doing their best. Good job, guys.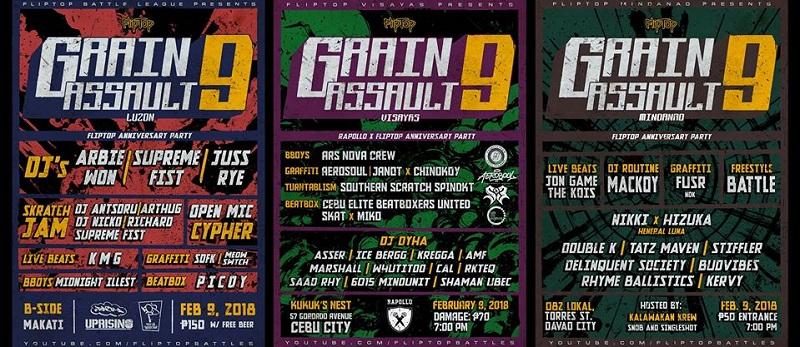 The league introduced a new batch of battle emcees with the return of the tryouts. Process of Illumination 6 happened in 5 places, namely Cebu, Davao, Cavite, Pampanga, and Metro Manila. Everyone gave an incredible performance, which eventually led to the creation of Won Minutes in 2019. The majority of the champions and special picks in each division have already made their mark at major FlipTop events.
Apart from the tryouts and Grain Assault, Cebu and Davao also had Gubat 7 (July 14) and Pakusganay 4 (July 21) respectively. As always, both events produced battle-of-year candidates like Invictus vs Marshall Bonifacio and M Zhayt vs Sak Maestro and underrated classics such as Rudic vs Dosage and Asser vs Martin. The crowd continues to grow as well, and their appreciation for solid lyricism and overall rap ability remains intact. Whether it's comedy, technical, or a mix of both, they will show their support as long as it's dope! It certainly urged the Metro Manila audience to step their game up.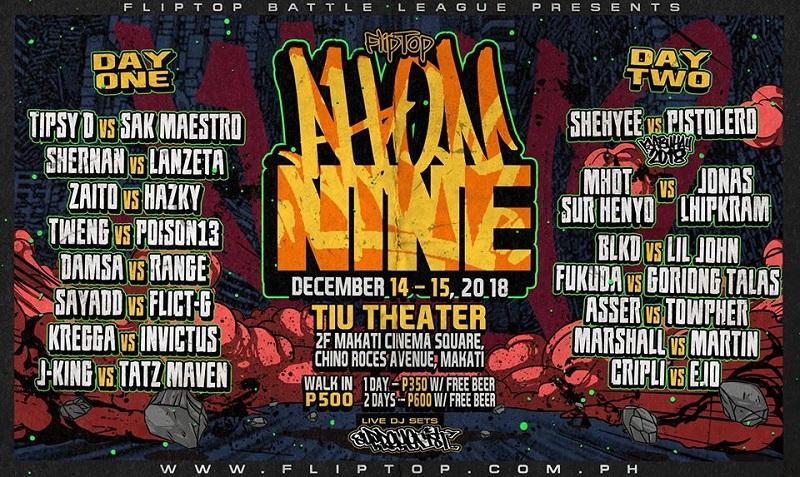 What made 2018 extra special was the launch of the official FlipTop website in May. It took over a year to plan this one, and it wasn't an easy task at all. There were various problems along the way, but Anygma and co. were able to overcome it all. The website quickly caught the attention of fans, thanks to its diverse content. In addition to new video segments such as FlipSides and Pre and Post-Battles, it also features the FlipTop radio (brought to you by Supreme Fist and other guest DJs) and an articles and lyrics section. It became a one-stop-shop for everything hip-hop. There will be further updates, so stay tuned.
Four years later, the league is still very much alive! Not even covid could stop the staff and the emcees from further elevating not only battle rap but the whole scene. Shout outs to every single fan out there who didn't give up on the movement. Watch out for the videos from the recent Second Sight and Gubat event. As for the next affair, you just have to wait for the official announcement.