Are you planning to go to Pakusganay 7? These are the places where you can purchase tickets.
In case you don't know yet, the league is coming back to Davao on June 3 for the seventh edition of Pakusganay. It's nearly four years since the last time FlipTop had an event in the region, so expect this one to be another historic affair. There will be eight battles: two for the 2023 Isabuhay, a 2-on-2 matchup, and five non-tournament bouts. Each match features top emcees from the Metro Manila and of course Mindanao Divisions. You don't want to miss it!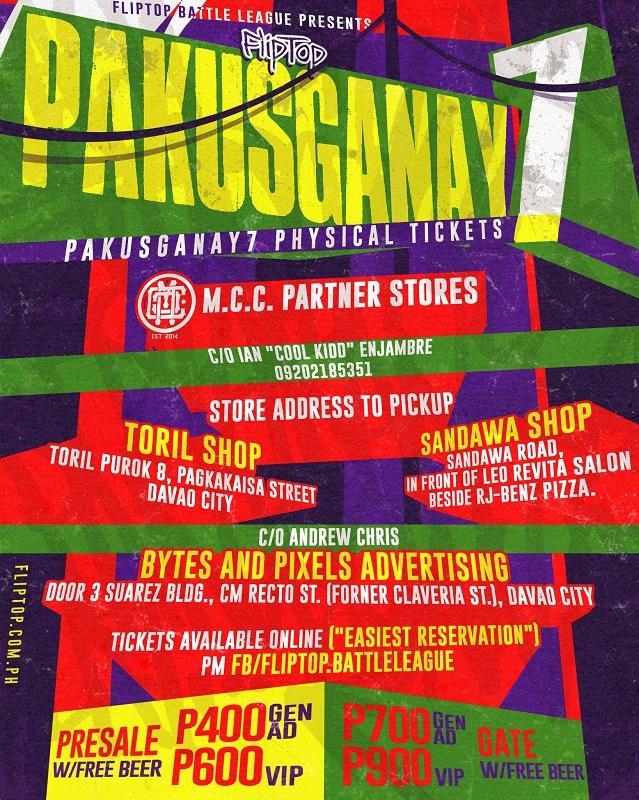 For online ticket reservations, just send a private message to FlipTop's official Facebook page. Please wait patiently for the response. As the poster above states, you can also purchase physical pre-sale tickets at Bytes and Pixels Advertising and M.C.C. partner stores (StreetSide WH Davao in Sandawa and Dailygudz in Toril). Kindly visit their respective pages for more information. Pre-sale prices are 400 pesos for Gen AD and 600 pesos for VIP. For the walk-in option, Gen Ad is 700 pesos while VIP is 900 pesos. Each ticket includes one free beer.
If you already have yours, then we'll see you in a few days! We did a pre-event review of Pakusganay 7 which you can read here. Brace yourselves for epic clashes and top-tier lyricism courtesy of our homegrown talents. Make sure also check out the Won Minutes event. The complete details will be announced very soon.