How significant is FlipTop's second event? Find out as we look back at the inaugural Second Sight.
The first-ever Second Sight event was held on March 20, 2010, at a newly-opened bar in Makati called B-Side. At this time, FlipTop wasn't a pop culture phenomenon yet. The Grain Assault videos were just uploaded, and there were only a handful of individuals in the local scene who were familiar with the modern format of battle rap.
During that time, attendance for the event was already considered a huge success. If you've seen the videos, you would estimate about 100 to 120 people in the crowd. No one in the venue knew how big the league would turn out to be. As for the emcees, they simply want to go out there and have fun while showcasing their skills.
The event started with a video presentation. It's a documentary detailing the evolution of battle rap. Since it was still a bit early, there were only a few people in the venue, but each one was hooked on the screen. We then headed to the opening remarks followed by performances from NothingElse and Schizophrenia. The venue was already packed, and the aforementioned program was able to hype the crowd up more.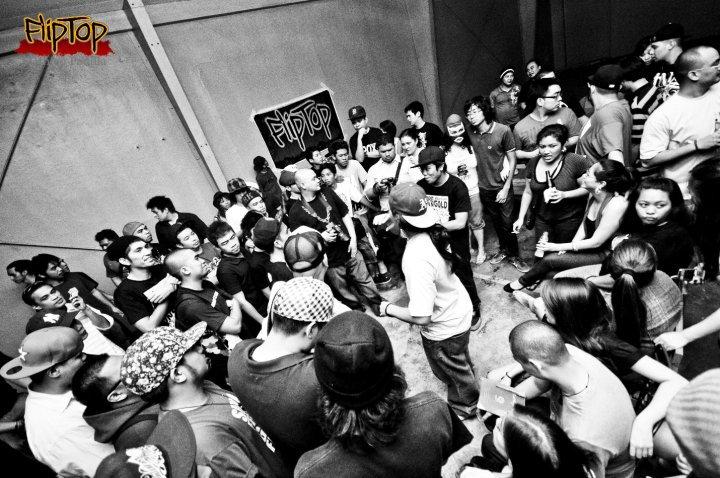 Seven battles took place at the inaugural Second Sight, one of which was a freestyle Filipino Conference battle between Harlem and Apekz. Apekz, who was only 17 at that time, went to B-Side alone and immediately signed up for the match. Now, that's what you call dedication. Harlem, who just performed earlier, still went to the pit and gave it his all, which led to his first victory in FlipTop. It was a back-and-forth battle that provided a preview of the quick ascent of both rappers.
Now, let's talk about the English Conference battles first. Plazma vs Apoc was billed as a "death match", since both competitors are known for their brutal raps. However, because of Apoc's stumbles, it ended up becoming a one-sided affair. Plazma went on to become one of the frontrunners of Pinoy horrorcore. Another match for the English Conference was Tim vs Dimebag Daryl. Tim was ruthless with his bars and his presence made him look like a veteran, despite just starting out in the game. Dimebag Daryl choked so badly that the staff decided not to release his rounds on video. It's mostly dead air anyway.
Back to the Filipino Conference, Batas vs Dello is arguably the battle of the night. Dello wowed the crowd with his witty comedy, laidback delivery, and a flawless blend of written and freestyle. Batas introduced a hardcore approach to his lines in a very aggressive manner. This style was considered shocking at the time, so when the battle was uploaded on YouTube, Batas was immediately hailed as a "villain". The result of the match was also highly controversial, but nevertheless, both emcees officially became more well-known after this.
Target vs Luke was another one-sided affair. Luke didn't choke badly or anything; his punches just didn't land. Target, on the other hand, threw haymaker after haymaker. Like Dello, he also mixed writtens and off-the-top lines effortlessly. Cameltoe vs Dhictah was a competitive matchup from the first to the third round. Dhictah was more on the hardcore, serious side while Cameltoe focused on his unorthodox humor which definitely entertained the crowd. It's an early example of an epic style clash in FlipTop.
WATCH: Second Sight
Loonie was already an established name in the underground scene, but it's safe to say that his battle with Gap is where he turned into a superstar. Gap was also making waves with his group People's Future even before FlipTop. However, he didn't prepare at all for his encounter with Loonie. As a result, Gap was bodybagged for three rounds. Loonie showcased his amazing multisyllabic rhyming style, which eventually became very influential in both battles and music.
The first Second Sight is definitely significant because it served as the introduction to some of the most legendary names in the league today. Even if some of them are inactive now, their legacy in battle rap has already been cemented. Second Sight made its return in 2014, and since then, it became an annual FlipTop event. We hope to see you all again on March 18, 2023, at Tiu Theater for the eleventh edition. Pre-sale tickets are still available. Check out the official Facebook page for more information. Thirteen years later, the movement is still very much alive! Let's continue making noise for Philippine battle rap and hip-hop!
READ ALSO: Pre-event Review ng Second Sight 11
Sadly, Second Sight 1 was also the last performance of Ago aka Lamok, an emcee and DJ from the AMPON collective. He was the turntablist during NothingElse's set, wearing his famous Rorschach mask. A week later, he died in a car accident. Thank you for the memories, Ago. You would've loved seeing the success of FlipTop.