It was truly a rollercoaster ride. Let's talk about FlipTop's very eventful 2019!
2019 is already three years ago. Wow! Without a doubt, it was a very eventful year for everyone involved. There were plenty of highs, but unfortunately, the lows took the spotlight a few times as well. What matters is that the league is still alive and kicking, and has no plans of slowing down. Let's take a look back at this crazy time.
Like the movie Pulp Fiction, we're going to start at the ending. Ahon 10 (both days) was a huge success! Over 2,000 fans attended the two-day event, and they all saw plenty of last-minute battle-of-the-year contenders. Congratulations to Sixth Threat for winning the 2019 Isabuhay Championship. Many will agree that it was a close fight and could go either way. As a matter of fact, the majority of the matches at the event were close. Ahon 10 certainly was epic!
Now, let's go back to the 9th of February. FlipTop held its 9th anniversary not only in Metro Manila but also in Davao and Cebu. What made these events even more memorable was that aside from emceeing, they also showcased breakdancing, graffiti, and turntablism. Basically, it was a night of hip-hop appreciation! The guests who weren't hip-hop heads immediately fell in love with the culture.
The battle season officially started on March 22 with the inaugural Won Minutes event. It served as a proving ground for the champions and special picks of the 2018 tryouts. The same rules from the modern format applied, but this time it went back to the 60-second time limit. Won Minutes continued in the next FlipTop events in Cebu and Davao, and also gave returning veterans from their respective divisions an opportunity to make a grand comeback.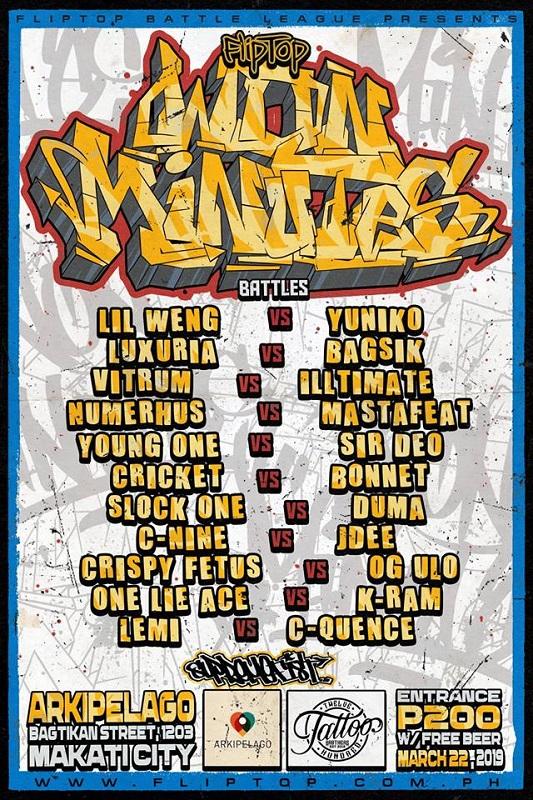 March 30 was the date of the fifth Pakusganay event. Sinio and Nikki gave us three rounds of comedy gold while the two Isabuhay matches and the other four battles were pure barfests. FlipTop then went to Cebu on April 13 for the eighth edition of Gubat. There were three tournament battles, all of which gave the judges a hard time. The same can definitely be said of the non-tournament clashes. Thanks to the success of these shows, the league did another Pakusganay on August 24 and Gubat on September 28. Despite not having Isabuhay matches, these events still managed to produce battle-of-the-year candidates.
Second Sight 7 took place on the 27th of April at Tiu Theater, FlipTop's new home in Metro Manila. We've seen emcees from the first Won Minutes step on stage and unleash their lyrical firepower in the most spectacular fashion. Batas and Sak Maestro faced off in what is now regarded as a showcase of flawless technical rhyming. Doc Pau and Flip, who both returned from a long hiatus, proved to everyone that they still have what it takes to deliver quality bars. There were also three Isabuhay matchups, and just like the previous battles, each one made the tournament even more exciting.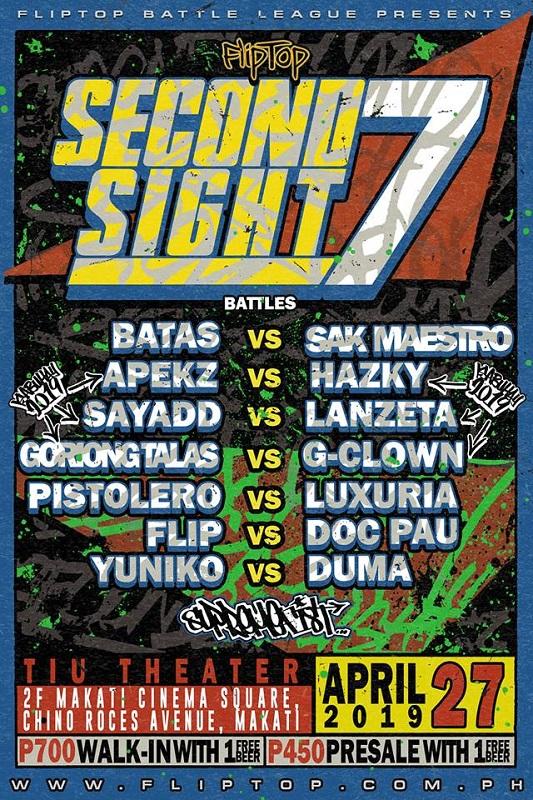 After a short break, FlipTop went back to Tiu Theater on June 29 for Zoning 2019. Four Isabuhay quarterfinal matches took place, and they all made the crowd go wild. Poison13, Sixth Threat, G-Clown, and Apekz not only emerged victorious, but they also leveled up overall. The non-tournament battles didn't disappoint as well. They were all perfect examples of a great style clash. The barfest continued at Unibersikulo 7, which happened on August 10. Even without any tournament match, it was still a memorable card. Like Zoning, there were solid style clashes such as Pistolero vs. Emar Industriya, Cripli vs. Numerhus, and Towpher vs. Damsa. Batas vs. Mhot and Sur Henyo vs. J-King were back-and-forth verbal wars that sent the crowd home happy.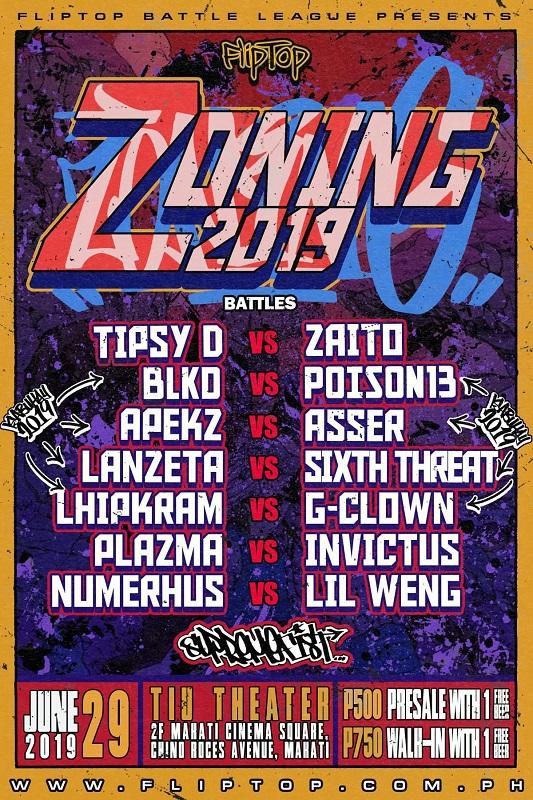 Apart from an awesome Gubat 9, September 2019 will also be remembered for the return of Mindfields. The event was held at 12 Monkeys in Ortigas and featured performances from GSM, Owfuck, Illustrado, N-P-A, Scavengers, and Tres Diablos. These groups tore the house down with their energetic stage presence and raw sound. Hopefully, Mindfields will come back in 2022.
Bwelta Balentong 6 on the 12th of October is where we witnessed the Isabuhay semifinals. Apekz vs. G-Clown and Sixth Threat vs. Poison 13 were certainly not one-sided affairs. The emcees brought their A-game, and because of this, each battle could've gone either way. LilJohn vs. Cripli and the rest of the matches received rave reviews as well from fans live and online!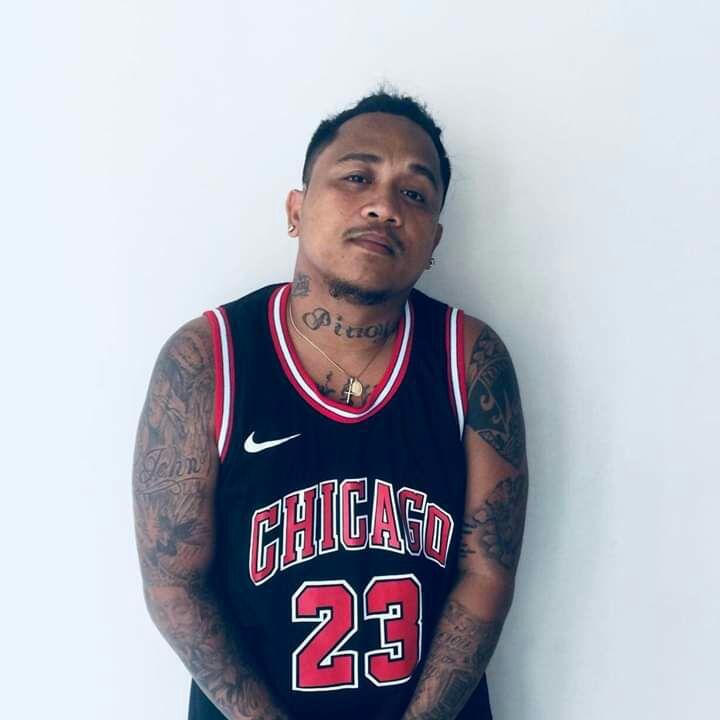 Sadly, 2019 also brought us some bad news. We've seen the beloved veteran Loonie experience bad luck for months. If you're not aware of what happened, you can just Google it. Thankfully, capital L was released on bail in January 2020 and then on June 2021, his case was dismissed. Another terrible incident is the sudden passing of LilJohn. Let's all wish that justice will eventually prevail. Thank you so much LilJohn for entertaining us with your battles and music. We hope you enjoyed the 3GS Royal Rumble at Ahon 10.
To all the fans that stayed with the league through the many ups and downs, the staff and the emcees are forever grateful. 2019 was one hell of a ride. It definitely taught us a lot. 2020 was no different, but we'll talk about that some other time. Watch out for the latest uploads and the announcement regarding the next event. Peace!