It's time to do some reminiscing again. Let's talk about the year 2022 in FlipTop.
Almost two years of strict lockdowns and what seemed to be an endless number of COVID variants affected all aspects of life, and the local hip-hop scene was no exception. FlipTop was forced to hold events without a crowd from Second Sight 8 (July 2020) up to Ahon 12 (December 2021). There were still some classic matches and moments but nothing beats the atmosphere of a live event with fans in attendance.
Enter 2022 and with COVID slowly getting weaker, we were on our way back to normalcy. Establishments are allowed to operate at full capacity again and organizers already started working on events. The league started out with a celebration of its 12th anniversary at a club in Ortigas. Like the pandemic affairs, only emcees, staff, and mutual friends attended this private gathering. Then, on March 31, FlipTop posted something on its Facebook page that put a big smile on everyone's faces. The first event of the year, Second Sight 10, will now have an audience. That announcement alone was already a memorable moment of 2022.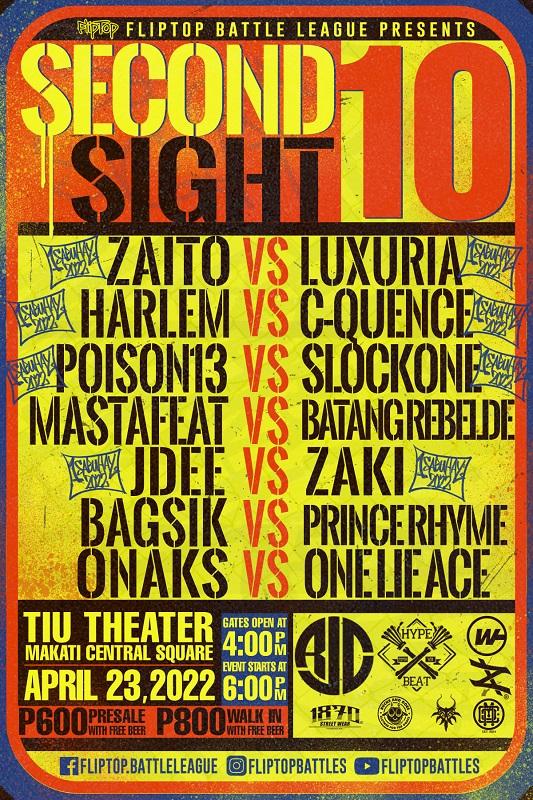 Second Sight 10 took place on the 23rd of April and just the sight of fans inside Tiu Theater was enough to say that we are back in full effect! They're lively as ever. It certainly looked like everyone had a great time. Of course, we were treated to awesome battles from start to finish. The four Isabuhay battles were back-and-forth bouts while the non-tournament matches also featured vicious haymakers. When it came to live events, it was all uphill from there.
2022 also saw the much-awaited return of FlipTop in Cebu. There was the Rapollo Mindfields on May 13 which featured two battles from up-and-coming emcees and performances from some of the most renowned names in the Visayas hip-hop scene. May 14 was the date of the tenth edition of Gubat. The Cebu audience didn't disappoint. They proved once again why they're the best FlipTop crowd. Yes, they're loud, but they maintained a respectful tone all throughout. As for the battles, many consider Asser vs Fangs to be the match of the year, and we're not complaining. There's also no denying the impact of GL vs LilStrocks and Goriong Talas vs Pen Pluma. One thing was certain about this night: it was historic!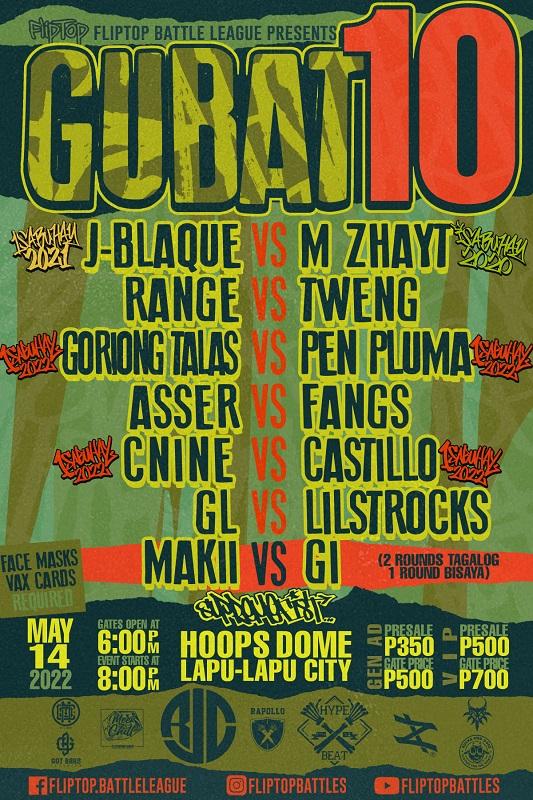 The next Metro Manila event, which was Zoning 14, happened on the 16th of July. Two Isabuhay bouts took place: Zend Luke vs Elbiz and Pistolero vs Plaridhel. Both were incredible style clashes that highlighted the respective skill sets of the emcees. Prince Rhyme vs Vitrum was a great opener while the performances of Fukuda, CripLi, and Hazky also deserve props. Next up was Bwelta Balentong 9, which concluded the quarterfinals of Isabuhay. Many would agree that all of the tournament battles were close fights. It just shows how serious these rappers are about becoming the champ! JR Zero vs Illtimate, the first bout of the night, was arguably the best non-tournament contest in the event.
Unibersikulo 11 took place on October 15 and many regard it as the best event of the league in 2022. Literally every match was a solid display of lyricism and rap ability and we got another battle-of-the-year contender in Sayadd vs GL. It was also the conclusion of the Isabuhay semifinals, which featured dominating performances from Luxuria and Pistolero. FlipTop took no breaks and proceeded to hold Zoning 15 on November 5. It was notable for bringing back the pit-style setup which we saw in the first few events of the league. Once again, we saw epic clashes with the majority of fans highlighting Plaridhel vs Mastafeat, Batang Rebelde vs Prince Rhyme, and K-Ram vs Pen Pluma.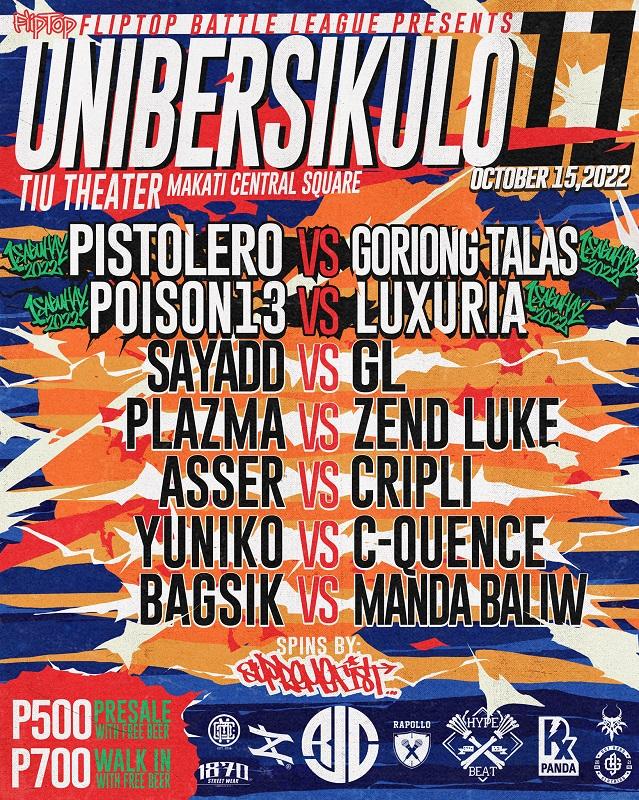 We're now in December and you know what that means. It's the season of Ahon! The 13th edition of this historic occasion took place on December 16 and 17. The venue was the "FlipTop Warehouse" in San Juan which used to house a badminton center. Despite the large size of the place, it was instantly packed in a matter of minutes. There were some problems on day two that led to some drastic changes in the flow of the event but Anygma and co vowed it won't happen again. Nevertheless, Ahon 13 gave us some unforgettable contests. Who could forget the intense matchup between Apekz and Sinio? How about the lyrical mastery displayed by CripLi and M Zhayt or the hard-hitting showdown between Fukuda and Invictus? How about the technical between GL and Marshall Bonifacio or the witty exchange between EJ Power and Abra? What about the two equally entertaining Royal Rumble matches? It was also the finals of the exciting Isabuhay Tournament. Pistolero and Luxuria gave it their all on stage, but as with any other competition, there could only be one winner. After three rounds of heavy bars and crazy angles, it was Pistolero who was declared the champion. It was a well-deserved victory for an emcee who kept stepping his game up in every match. Still, props should also be given to Luxuria for her huge improvement and dedication to this artform.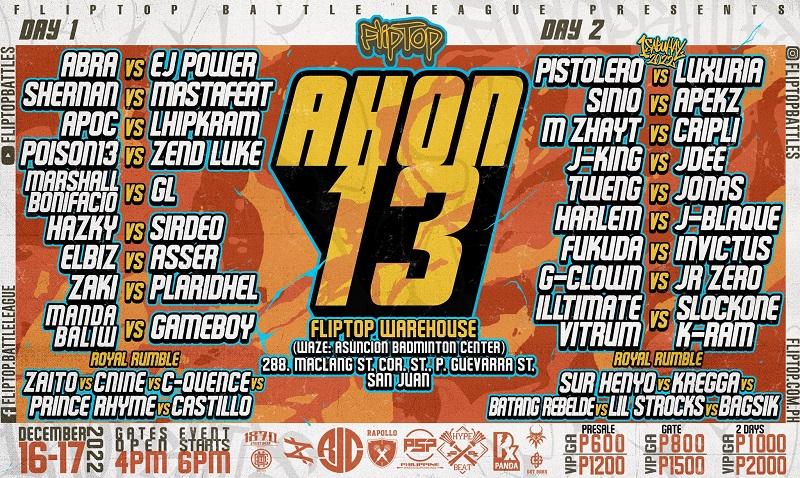 2023 is looking great so far and we can't wait to see what's next. What does FlipTop have in store for us? We just have to wait and see. Make sure you check out the latest uploads and support the upcoming events if you have the time. FlipTop, make some noise!